Covid-19 Information & Useful websites
Covid-19 Cases Update 10th Nov #
16 Deaths
14-day incidence rate is 151.1
282 patients in hospital
40 patients in ICU
Positivity Rate over the past 7 days is 3.7%
The 14-day incidence rate has now halved as a result of the level 5 restrictions  per 1000,000 people
 HPSC Epidemiology of Covid-19 in Ireland 14-day report
Pfizer and BioNtech  Vaccine Update
 The European Commission will approve a contract for the supply of the Covid-19 vaccine being developed by Pfizer and BioNTech tomorrow, its President Ursula von der Leyen said. The two companies said their experimental vaccine was more than 90% effective, In what could be a major victory in the fight against the coronavirus pandemic. Protection in patients was achieved seven days after the second of two doses, and 28 days after the first, according to preliminary findings on the Pfizer and BioNTech vaccine." Tomorrow we will authorise a contract for up to 300 million doses of the vaccine developed by German company BioNTech and Pfizer," Ms von der Leyen said in a statement. "Once this vaccine becomes available, our plan is to deploy it quickly, everywhere in Europe." This will be the fourth contract with a pharmaceutical company to buy vaccines. And more will come. Because we need to have a broad portfolio of vaccines based on different technologies," she said. A spokesman for the Commission said earlier today that the EU executive would discuss adopting the agreement with the two companies, adding that the decision was not linked to Pfizer's announcement yesterday. Meanwhile, the World Health Organization's Special Envoy on Covid-19 said the announcement yesterday of a potential vaccine by Pfizer and BioNTech was great news, but one vaccine may not be enough to combat the virus. Speaking on RTÉ's Morning Ireland, Dr David Nabarro said the WHO is watching a number of vaccines that are in Phase 3 trials and is hopeful that some will be licenced next year. Phase 3 of vaccine trials is when the drug is given to thousands of people and tested for efficacy and safety. When it is approved and licenced, a vaccine will enter into Phase 4 ongoing studies. Dr Nabarro urged people to continue to treat the virus with respect and adjust our lives so it cannot transmit easily, by continuing to social distance, wear face masks and wash our hands. RTE News 10th November
 The EU have also secured contracts with Astrazenaca, Sanofi_gsk and Johnson and Johnson . Ireland has been allocated over 1% from the EU portfolio which would facilitate 1.6 million vaccinations here.
RTE News 10th Nov
Pfizer Monday, November 09, 2020 – 06:45am
Vaccine candidate was found to be more than 90% effective in preventing COVID-19 in participants without evidence of prior SARS-CoV-2 infection in the first interim efficacy analysis
Analysis evaluated 94 confirmed cases of COVID-19 in trial participants
Study enrolled 43,538 participants, with 42% having diverse backgrounds, and no serious safety concerns have been observed; Safety and additional efficacy data continue to be collected
Submission for Emergency Use Authorization (EUA) to the U.S. Food and Drug Administration (FDA) planned for soon after the required safety milestone is achieved, which is currently expected to occur in the third week of November
Clinical trial to continue through to final analysis at 164 confirmed cases in order to collect further data and characterize the vaccine candidate's performance against other study endpoints
HIQA publishes its assessment of alternative tests to detect SARS-CoV-2
Date of publication: Wednesday, 21 October 2020
View Rapid HTA of alternative tests to detect current infection with SARS-CoV-2
The Health Information and Quality Authority (HIQA) has published a rapid health technology assessment (HTA) on alternative tests to detect SARS-CoV-2, the virus that causes COVID-19. At present, rRT-PCR is the reference standard for diagnosis of current infection with SARS-CoV-2 in Ireland. The National Public Health Emergency Team (NPHET) requested that HIQA carry out a rapid health technology assessment of alternative tests and approaches to rRT-PCR. Based on the scientific literature, international recommendations, and input from the COVID-19 Expert Advisory Group, HIQA has advised NPHET that it is not possible to provide an across-the-board endorsement of specific technologies due to variation in performance of individual tests. Dr Máirín Ryan, HIQA's Director of Health Technology Assessment and Deputy Chief Executive, said: "The evidence shows that effective testing strategies rely on a portfolio of tests, using different technologies that can be applied in different settings and situations. There is no single test that is suited to all contexts. "While testing people at or near the point of care, including with the use of rapid antigen detection tests, has the potential to expand test capacity, reduce test turnaround times and improve access, such tests typically show reduced diagnostic accuracy compared with the current test. Therefore, depending on the circumstances, results from a rapid antigen detection test may need to be confirmed with the current rRT-PCR test. "HIQA also advised that the introduction of validated rapid testing in Ireland should now be considered to enhance COVID-19 prevention and control, while efficient processes with accurate and reliable rapid tests would facilitate timely clinical management and public health measures. Dr Ryan continued: "Clinical validation studies help determine the real-world performance of tests. Before any new test is implemented, it is crucial that these studies are undertaken in Ireland in the settings for which use of the test is planned. Adopting alternative approaches to laboratory-based testing needs to involve consideration of clinical performance (sensitivity and specificity), disease prevalence, turnaround time and ease of use, all of which will inform the selection of the most appropriate test for each setting. "The introduction of testing at or near the point of care must be within the context of a supporting quality management system. Along with the adoption of accurate and reliable rapid tests, such a system would support the quality assurance, governance, training and reporting requirements essential to ensure the ongoing safety, validity and reliability of the testing service. "A cohesive national strategy is needed to ensure the right tests are undertaken in the right people at the right time for the right purpose. Planning now to support delivery of the strategy will facilitate rapid deployment of tests that meet the requisite standards once validated for use. "The findings and advice were submitted to NPHET for their consideration and to inform public health advice on 7 October 2020.
Read the Rapid health technology assessment (HTA) of alternatives to laboratory-based real-time RT-PCR to diagnose current infection with severe acute respiratory syndrome coronavirus 2 (SARS-CoV-2) View Rapid HTA of alternative tests to detect current infection with SARS-CoV-2
Rapid Antigen Testing for Covid-19
Minster for Health Stephen Donnelly discussed on Primetime on November the 5th the proposition of introduction Rapid Antigen Testing here . Minster Donnelly commented that the sensitivity and specificity is not as high as manufacturers have stated and this is currently being validated.
HPSC Report on underlying conditions in confirmed cases of COVID-19
As part of the public health follow-up of confirmed cases of COVID-19, information is routinely collected on whether a case has the following underlying medical conditions: chronic heart disease, chronic neurological disease, chronic respiratory disease, chronic kidney disease, chronic liver disease, hypertension, asthma requiring medication, immunodeficiency, diabetes mellitus, BMI ≥ 40, cancer/malignancy, pregnancy and/or other comorbidities.
Data for this report were extracted from Computerised Infectious Disease Reporting (CIDR) system up to midnight Saturday November 7th on 09/11/2020 at 09:15. Up to midnight 07/11/2020, there were 65,389 confirmed cases of COVID-19.
· 56.8% (n=37,140) had no underlying medical condition
· 25.0% (n=16,313) had an underlying medical condition and
· 18.2% (n=11,936) were unknown/not reported
Full Report : https://bit.ly/3eMW4ij
HSE launches Prevalence of COVID-19 Antibodies in Irish Healthcare Workers (PRECISE) Study
PRECISE Study will look at rates of previous COVID-19 infections in healthcare workers in St James's Hospital (SJH), Dublin and University Hospital Galway (GUH). Over the next two weeks, staff in both hospitals will be invited to have a simple blood test to determine the presence of COVID-19 antibodies. The study will be repeated in six months and the data compared. Participation is voluntary and open to all staff across all departments in both hospitals. The PRECISE Study aims to calculate the prevalence of anti-SARS-CoV-2 IgG antibodies, or COVID-19 antibodies in healthcare workers in two hospitals in two distinct areas of the country. It will help the health service better understand this new infection, including the risk factors relevant to healthcare workers, for example the areas they work in and the type of patient exposure they have, as well as factors such as their sex, age and living arrangements.
It will help the health services to broadly estimate the number of healthcare workers that may have some degree of immunity to COVID-19 infection and those that are still at risk of contracting the virus. It will identify the proportion of healthcare staff who have the antibodies present but were asymptomatic and therefore possible unaware of their exposure to the virus. All of the information gained from this study will ultimately help the health services prepare for increasing number of cases.
More information
HSE Press Release:
https://www.hse.ie/eng/services/news/media/pressrel/hse-launches-prevalence-of-covid19-antibodies-in-irish-healthcare-workers-precise-study.html
NICE Update Guideline on persistent effects of Covid-19 (long Covid) on patients
NICE and the Scottish Intercollegiate Guidelines Network (SIGN) have today (5 October 2020) announced they will work with the Royal College of General Practitioners (RCGP) to develop a guideline on persistent effects of Covid-19 (Long Covid) on patients.
People have reported persistent symptoms of Covid-19 regardless of how ill they were initially or whether they were hospitalised. Longer term impacts can include on-going shortness of breath, fatigue, heart, lung, kidney, neurological and musculoskeletal problems. It is estimated there could be as many as 60,000 people in the UK who probably have Long Covid. The guideline will address, among other things, a formal definition of the disease, how to identify on-going symptoms and a definition of best practice investigation and treatment options to support the management of the condition across diverse communities. Paul Chrisp, director of the Centre for Guidelines at NICE, said: "There is growing evidence to suggest Covid-19 is a multi-system disease that for many people involves persistent symptoms with longer term impacts on their health. It is important, therefore, that people requiring ongoing support and treatment are identified quickly and are supported by the NHS throughout every stage of their journey. We also want to ensure that clinicians have clear guidance on how best to support patients struggling with this newly emerging disease. "Roberta James, Programme Lead for SIGN, said: "National guidance in this emerging field will help to align services with the needs of people who may be at risk of receiving inconsistent care. The guideline will support health and care services with recommendations on monitoring, testing, treatment options and the provision of advice and support for those who are experiencing these long-term effects."
Professor Martin Marshall, Chair of the Royal College of GPs, said: "Treating or managing any new virus or condition is a challenge for healthcare professionals whose priority is always trying to deliver the best possible care for their patients. The College is delighted to be working with both NICE and SIGN to develop this guideline. It aims to support GPs and other healthcare professionals to ensure all patients with long term effects of Covid-19, including those diagnosed in the community irrespective of whether they received a positive test or not, can be cared for in the best possible way, based on the latest evidence." It is expected that the guideline on the longer-term patient impact of Covid-19 will be published by the end of the year.
Written evidence from the House of Lords' inquiry 'Long COVID: Evidence, recommendations and priority research questions (COV0050).' https://committees.parliament.uk/writtenevidence/12345/pdf/
Oxford vaccination sparks an immune response among older generations
Oxford Vaccination sparks immune response in older people
The Oxford Covid-19 vaccine triggers an immune response in older people as well as the young, according to manufacturers of the inoculation. AstraZeneca said older people receive an immune response from the vaccine.
The claim is a positive given that the immune system weakens with age and older people are those most at risk of dying from the virus. The vaccine, developed by the University of Oxford, also triggers lower adverse responses among the elderly, the pharmaceutical company said. A company spokesman said: "It's encouraging to see immunogenicity responses were similar between older and younger adults and that reactogenicity [vaccine reaction] was lower in older adults, where the Covid-19 disease severity is higher." The results further build the body of evidence for the safety and immunogenicity of [the vaccine] AZD1222."AstraZeneca did not provide statistics on its statement .It has not yet announced when it will publish late-stage phase three trial data. This date will highlight if the vaccine is successful in large-scale trials, which could allow for it to be approved. The European Centre for Disease Prevention and Control (ECDC) yesterday released a report on the key aspects regarding the introduction and prioritisation of Covid-19 vaccinations. These included a "robust disease surveillance system", studies on effectiveness and impact; active and passive monitoring of adverse events following immunisation, robust and timely vaccination coverage data; evidence-based decision-making; legal and regulatory frameworks for vaccines deployment; and ethical and equitable access to a ­vaccination.
It also noted there is still a great deal of work regarding ensuring an inoculation is ­satisfactory.
It said there is "currently a lack of certainty and knowledge about the characteristics of Covid-19 vaccines that could become available in the EU/EEA and the UK, as well as remaining gaps in the scientific knowledge of the virus and the disease. "Vaccination plans and strategies would therefore need to be "adapted as more information becomes available", it added. "Once vaccines against Covid-19 are available, their supply is likely to be limited, at least initially. "Supply capacity, both initially and over time, will thus determine vaccine usage and delivery prioritisation. "Deployment will need to be adjusted accordingly to promptly optimise vaccine allocation and ensure vaccine availability to those most in need." The report recommends particular groups be offered access as a priority. These include those at risk of severe Covid-19, including essential workers, vulnerable groups and older people. The document said those who are at "increased risk of exposure and onward transmission" such as younger adults and those working in professional settings, should also be considered in priority groups. According to the European Medicines Agency (EMA), in a "best-case scenario" the agency would receive clinical data on the most advanced vaccines towards the end of 2020. Communication strategies would need to be developed "to aid acceptability of the vaccine/s and to tackle vaccine hesitancy".
Irish Independent 27th Oct
Immunity to Covid-19 may only last a matter of a months
Immunity lasts just a few months after infection, UK study shows
Immunity to Covid-19 may only last a matter of a months, according to research that could hinder the rollout of a successful vaccine. The study by Imperial College London, which involved 365,000 people in the UK, found antibodies in the population fell by more than a ­quarter in three months. Scientists said the findings suggested a 'rapid' decline in immunity, which could mean that even if a successful vaccine was found, it might have to be administered as often as twice a year. The mass research suggested that by last month, fewer than one in 20 people in the UK had developed antibodies to Covid-19.The study, commissioned by the British Department of Health, showed that by June – after the first wave of the pandemic – 6pc of the population had developed antibodies. Three months later, however, the study showed that had dropped to 4.4pc – with most of the decline happening within just six weeks. The sharpest fall was in those most in need of protection, with antibody levels among over-75s reducing by close to 40pc between June and September. Scientists said the findings showed Britain – and, by implication, all other affected countries – was "miles off" achieving herd immunity, which they said might never be reached without a vaccine. However, the research did not examine the role of other forms of immunity. Some scientists believe the part played by T cells – a type of white blood cell that helps the immune system fight viruses and which is linked with prior infections with common colds – may be more crucial in fighting the virus. Scientists analysed home finger-prick samples from hundreds of thousands of adults, to establish "detectable antibody levels" over three months, and found levels fell by 26.5pc overall. The largest fall was among those most vulnerable to serious illness from Covid-19. Among those aged 75 and above, antibody levels fell by 39pc, while a drop of just 15pc was seen in those aged between 18 and 24.Researchers stressed that it was not yet known what level of antibody response was required to protect against reinfection, meaning it was possible that even low levels of antibodies offered some protection. However, they said the findings suggested a significant rapid decline in immunity – raising the prospect that those infected could suffer repeatedly from infections in further waves. The findings suggested that even if a successful vaccine was developed, it might have to be administered as often as every six months, increasing the scale of the challenge ahead. However, researchers said that vaccines could prove more powerful than natural immunity.
Researchers yesterday said the findings showed Britain was "a long, long way" from anything approaching natural herd immunity. Prof Helen Ward, the lead researcher and an Imperial public health expert, said: "I think what we are showing is that there is a really big challenge to that, which is immunity is waning quite rapidly. After three months, we've already shown a 26pc decline in antibodies." When you think that 95 out of 100 people are unlikely to be immune, and therefore likely to be susceptible, then we are a long, long way, from anything resembling a population-level protection against transmission. "Prof Wendy Barclay, the head of infectious diseases at Imperial, said the findings suggested Covid-19 was likely to work in the same way as the common cold, meaning it could reinfect regularly. She added: "Seasonal coronaviruses that circulate every winter and cause common colds can reinfect people, after six to 12 months – and we suspect that the way that the body reacts to infection with this new coronavirus is rather similar to that. "We don't yet know what level of antibody is needed in a person's blood to protect them from infection or ­reinfection from SARS-CoV-2, but of course that level is a crucial thing to begin to understand. "She said that Britain was "miles off" herd immunity. Prof Graham Cooke, another Imperial infectious disease expert, said: "The big picture here is that after the first wave, the great majority of the country still did not have evidence of protective immunity. "So, although we are seeing a decline in the proportion of people who are testing positive, we still have a great majority of people who are unlikely to have been exposed. "So, the need for a vaccine is still very large if you want to try and get a large level of protection in the population."
Irish Independent 27th October
ECDC to assess risk associated with spread of SARS-CoV-2 in mink farms
ECDC will assess the human implications of an extensive spread of SARS-CoV-2 in mink farms in Denmark, where by 3 November 197 farms had been affected in the country. Denmark is currently implementing strong control measures, including culling, restrictions of movement of people living in nearby areas and enhanced testing among the general population.
When the virus is introduced into a mink farm, it can spread quickly, leading to many cases among mink. Due to the large number of infections and possibly due to biological differences between mink and humans, the virus can accumulate mutations. Such variants have the possibility to spread back into the human population. The Danish public health agency, Staten's Serum Institute (SSI), has identified seven unique mutations in the spike protein of the SARS-CoV-2 variants in mink. This variant has also been identified in human cases. The possibility of an antigenic mutation in SARS-CoV-2 may have implications for immunity, reinfections and the effectiveness of COVID-19 vaccines, but there is currently a high level of uncertainty over this. Further analyses and scientific studies are needed to better understand the identified mutations and their potential implications .ECDC is in close contact with Danish public health authorities on the issue and will publish a Rapid Risk Assessment on the situation by 12 November 2020
https://www.ecdc.europa.eu/en/news-events/ecdc-assess-risk-associated-spread-sars-cov-2-mink-farms
Christmas restrictions will be inevitable despite Covid-19 fall
Hospitals probed over deaths of health care workers
Hospitals probed over Covid deaths of healthcare workers
The  Health and Safety Authority (HSA) is investigating the deaths of a number of healthcare staff who are believed to have contracted Covid-19 while at work, the Irish Independent has learned.
At least one family of a healthcare worker who died from the virus is considering legal action against what they claim was a "failure of duty of care" provided to their loved one at their workplace and by the Government.
Since the first confirmed case of Covid-19 in Ireland on February 29, it is known that eight healthcare workers have died from the virus.
Some of the first known deaths occurred in April, when supplies of personal protective equipment were under pressure. The HSA is carrying out "preliminary investigations" into some of the deaths.
The relatives of a deceased healthcare worker, who wish to remain anonymous, said they were "co-operating" with the HSA. They hope some light will be shed on the circumstances of the death.
But they added: "The employer of our family member had a duty of care to them.
"It's not about money for us, it's all about them (the Government) acknowledging that our loved one worked so hard and we would like them to formally apologise to us that they contracted the disease in the workplace."
 The Irish Independent 9th of November
 Christmas Restrictions will be inevitable despite Covid-19 fall
Public health experts have warned it will be impossible to avoid continued restrictions over Christmas, despite slowing Covid infection rates.
The Department of Health yesterday reported two further deaths and 542 new cases, bringing to 1,947 the number of people who have died with Covid-19 while the infections total stands at 65,394.
DCU Health Systems Prof essor Anthony Staines said that although the infection rate is falling, reopening in December will lead back to another lockdown. "If we continue with an aggressive programme to control this virus, we could eliminate circulation of the virus by January, and we could have our economy back by February," Prof Staines said. "If we don't, what will happen is cases will go down by November and the first couple of weeks of December and then start ticking up. "Riskier" Christmas socialisation is important, and it matters but the more virus there is circulating when we do it, the riskier it is. "Probably in February we will be back where we are now."
Prof Staines criticised the national response in terms of establishing effective contact tracing.
He said although Christmas will be difficult for politicians to manoeuvre, "the Government is there to provide leadership". "Europe has made a dog's breakfast out of this. Europe is a disaster area," he added.
"Nigeria's public health department has less money than the Dublin public health department and they have managed to control the virus. "Junior Minister Robert Troy yesterday failed to provide any clarity over what restrictions may be in place at Christmas, saying the situation would be kept "under review".
"I can't honestly say here today, in terms of what's going to happen at Christmas," he said.
"Only to say that the Government with Nphet, with the public health advice, are keeping the situation under constant review to ensure that we can open up the economy as much as possible in December, and to ensure that we can have as good a Christmas as possible under the circumstances."
Dr Nuala O'Connor, the Irish College of General Practitioners' lead adviser on Covid-19, said the focus this year will be on a "safe" Christmas. "I think we've all got to think carefully as a society how we're going to manage Christmas this year," she said. "Christmas is really important in Ireland. What we have to do is try and focus on how we can have Christmas but in a safer manner.
"Yes, Christmas will be a bit different because if we try to have it the normal way, if there's too much getting together of people in closed, crowded, poorly ventilated indoor spaces, that's exactly where this virus loves to spread."Nphet chairman Cillian De Gascun said at the weekend the team was considering introducing a limit on the number of close contacts people will be allowed.
Sinn Féin TD Kathleen Funchion said the Government had to provide more clarity to allow people to plan for the festive season and tell them "what it's going to look like".
"People were told for the last number of weeks that they had to go into Level 5 to sort of save Christmas," she said. "Now we're seeing that it's going to be very restricted anyway."
The Irish Independent 9th November
HPSC Epidemiology of Covid-19 Report 22nd Oct
Essential Services List  
This list applies for Level 5 only.
Physical attendance at workplaces is only permitted for those providing the following services where such services can only be provided in person and cannot be delivered remotely. It does not include administrative and other support for such businesses and services unless specified in section 13 and the physical presence of a worker is required.
Agriculture, horticulture, forestry, fishing, animal welfare and related services
Manufacturing
Supply, repair and installation of machinery and equipment
Electricity, gas, water, sewage and waste management
Construction and development
Wholesale and retail trade
Transport, storage and communications
Accommodation and food services
Information and communications
Financial and legal activities
Professional, scientific and technical activities
Rental and leasing activities
Administrative and support activities
Public administration, emergency services and defence
Human health and social work activities
Education
Community and voluntary services
Diplomatic missions and consular affair
Next 6 weeks are crucial from Ireland , Who Official
Ireland failed to capitalise on the success of its first lockdown, and the next six weeks will be critical, says World Health Organisation (WHO) official Dr Mike Ryan.
The Irish-born WHO executive said we needed to create more positive language around Covid and spend less time "wagging the finger at young people and telling them what not to do".
"People are sick of being told what not to do. We are losing our youth as a result," he said.
Dr Ryan has previously been outspoken about the impact of lockdowns, saying countries cannot simply keep shutting down their societies to defeat coronavirus.
He also remarked that "only in Ireland could you have Level 3 and a bit" when discussing the Government's Living with Covid plan. For him, people learning to take personal responsibility is going to be extremely important in the battle against Covid-19 going forward." Just because your neighbour's an idiot, doesn't mean you have to be an idiot," he said. "If you go back to spring and early summer, Ireland didn't do a bad job at all.
"The issue is the disease has crept back in and we all seem to have been taken by surprise, and I don't necessarily think we should have been taken by surprise. "Mr Ryan was speaking at the 40th annual MacGill Summer School, which is this year taking place online due to the pandemic.
While the next wave is going to be "very difficult", Dr Ryan said "there is hope".
"We've got 12 good vaccine trials. We've never seen that many candidates enter a phase-three trial so quickly." He described Covid-19 as a "wake-up call for our health systems". When asked by Dr Rhona O'Mahony about his new-found fame, he said "it's very strange"." You live most of your life in relative obscurity and all of a sudden become a minor celebrity." My kids and my family are in Ireland. I've only seen them twice this year. I'm working 14-hour days and going to bed. "He praised his wife for the "huge sacrifice" she had made.
"My family has suffered. The real heroes in this are not the ones on TV, it's the people you don't see behind the masks and goggles. The heroes are walking amongst you."
The Irish Independent 23rd October
HSE Cocooning Update
If you're at very high risk (extremely vulnerable) from coronavirus (COVID-19), you are advised to cocoon. This is because you are more likely to get very sick from coronavirus, if you catch it.
You should stay at home and limit your social interactions as much as possible. Although it can be difficult, avoid physical contact with other people.
Certain activities carry more risk of catching COVID-19.
These include:
attending events with people from different households – such as weddings and funerals
crowded areas where you can't keep 2 metres away from other people – especially indoors
The more people in a place, the greater the risk. Use your best judgement and take extra care to protect yourself from COVID-19. Follow the advice on this page to stay safe.
HSE Video :Creating Social Bubbles
When we keep our distance, we're protecting ourselves and those around us from the spread of COVID-19. If we drop our guard, we could become exposed to the virus and so could the people around us. Let's keep our guard up.
Video Link https://twitter.com/i/status/1319251153998303232
Department of Health Dr Tony Holohan ,CMO How and when to self-isolate                                               
In this  video Dr Tony Holohan ,CMO explains how to self- isolate and why it's so important if you are at risk of spreading Covid-19
Link to Video https://twitter.com/i/status/1319335441708044289
Department of Heath Dr Heather Burns DCMO How to restrict your movements to reduce the spread of Covid-19
Link to Video https://twitter.com/i/status/131959138268058828
HSE/HPSC National Interim Guidelines for Public Health management of contacts of cases of COVID-19
This document summarises interim recommendations for contact management for COVID-19. It is based on the current knowledge regarding COVID-19 and experiences with SARS-CoV and MERSCoV. This guidance is suitable for a delay phase, when an increasing number of cases and their contacts have been identified in Ireland. It may change if and when we move to a mitigation phase. Readers should not rely solely on the information contained within these guidelines. Guideline information is not intended to be a substitute for advice from other relevant sources including, but not limited to, the advice from a health professional. Clinical judgement and discretion will be required in the interpretation and application of these guidelines.
Access the full document here : https://bit.ly/2TgW9AQ
Contact Tracing Update RTE News 21st of October Clinical Lead for the Health Service Executive's Contact Management Programme Dr Sarah Doyle has said about 2,000 people, aged between 19-74 years who received a positive test result for Covid-19 last weekend, are being asked to alert their close contacts they have the virus. As first reported by The Irish Times, the people involved will receive a text message today, which can be forwarded with advice for anyone they deem to be a close contact. The HSE said its contact tracing teams have faced unprecedented pressures this month due to the increasing positivity rate. Between last Friday and Sunday, more than 3,000 Covid-19 cases were confirmed and people with a positive test result over the three days were notified by text. Instead of the usual contact tracing involving phone calls, they will today receive a second text.
It will ask them to send on a message to their own close contacts – people they have spent more than 15 minutes with – alerting them to restrict their movements and to immediately contact their GP to arrange a test.Dr Doyle said "it's not obviously equivalent to receiving a call from the contact tracing team" but "it is still an effort to advise people of the situation" and to identify their close contacts and forward on this message.
New Garda Fines for non -compliance with Covid-19 restrictions Fines of €1,000 will be issued to those who organise house parties during the Level 5 restrictions, it is understood. The government is tonight drafting new legislative amendments that will introduce a graduated scale fines for those who breach the restrictions, as part of an attempt to curb the spread of Covid-19. It is understood that fines of €1,000 will be given for the owners of houses, or tenants living in houses where house parties are held. There will be fines of up to €500 for other breaches of the Covid-19 restrictions which will come into force on Thursday. Earlier, Cabinet agreed to give Gardaí new powers that will allow them to issue fines to the occupier of a house where a house party or gathering is taking place. Gardaí will be allowed to call to homes or other indoor venue and ask those present to disperse. If people refuse to comply with a garda request to leave the party, those living in the house could be given a fine. Under the new law, it will be presumed the occupier is the organiser, unless proved otherwise, and they will be issued with a fixed charge notice. The Association of Garda Sergeants and Inspectors has tonight raised its concerns with the practical application of these new powers, saying that they are "concerning" and unclear". Speaking on RTÉ's Six One News, Justice Minister Helen McEntee said if gardai knock on the door on a house where a party is taking place, they will ask who owns the property, and can ask everyone to leave. She said there will alwaysbe"engagement first" before any fines are issued. Under the current law, gardai are not legally permitted to enter a home without a warrant. Under the new legislation, gardai will still not be permitted to enter the home of someone without a warrant. However, they will be given the power to prevent people from entering house parties or indoor gatherings which are in breach of the government's Covid-19 restrictions.
https://www.thejournal.ie/gardai-covid-19-powers-5km-limit-level-5-5238722-Oct2020/
Moving to Level 5 Restrictions
6 weeks restrictions commence midnight Wednesday 21st of October and will end of 1st of dec .The Taoiseach Micheál Martin has announced that the country will move to Level 5 Covid-19 restrictions for six weeks from Wednesday night. Mr Martin said the Government cannot fight the virus alone. He said: "I am asking everyone to take this threat seriously. "He said it is the core responsibility of the Government to protect public health while supporting the wider economy and society. Under the Level 5 restrictions, schools are set to remain open. "We will not allow our children's futures to be another victim of this disease," he said. The positivity rate is 7.2%..The aim is reducing the reproduction rate to 0.5 and reduce the probability and opportunity for Covid-19 to spread. Modelling done by NPHET demonstrates that after 3 weeks we could potentially reach 250 to 300 cases daily  . After a period of 6 weeks lockdown the number of cases would be 50 to 100 cases daily . When Level 5 is lifted the Reproduction rate will rise to 1.4 .It will take up to mid-January before we would be back to 300 cases . RTE News 19th October
Level 5 Lockdown : What it means ?
Social Gatherings In your home or garden
There should be no other visits to homes or gardens. Other settings outside your home or garden-It is possible to meet with 1 other household in an outdoor setting which is not a home or garden, such as a park, including for exercise. No other social or family gatherings should take place.
What is a Support Bubble?
To support those who risk isolation, a 'social bubble' will apply for the duration of Level 5. In certain situations, you can form a bubble with 1 other household (of any size).You can then act as one extended household. You must still keep physical distance from people outside your support bubble
You can form a support bubble with another household in any of the following situations:
if you are living alone with children under the age of 18
if you live alone and have mental health challenges
if you share parenting or custody arrangements
if you live with a partner who has dementia (needs full-time care)
if you live by yourself and have a carer or carers who support you
How to form a Support Bubble
Support bubbles are designed to help you if you live on your own. You can only form a support bubble with one other household if they are not already part of a support bubble.Wherever possible, you should choose a household in your locality to form your support bubble, but it can be outside the 5-kilometre limit.
The reason for this is to prevent the spread of COVID-19 between areas that might have lots of cases and ones that have low numbers of cases.
What to do if someone in your support bubble develops symptoms of COVID-19 or tests
If anyone in your support bubble develops symptoms or tests positive for COVID-19, follow the stay at home guidance.
This helps control the virus as it stops the virus from spreading across multiple households.
If you or someone in your support bubble is contacted by the HSE or your local Department of Public Health, you should follow their guidance.
Weddings
Up to 25 guests can attend a wedding ceremony and reception, whether indoors or outdoors.
Organised Outdoor Gatherings
These are controlled environments with a named event organiser, owner or manager. For example: outdoor Arts events, training events. No organised outdoor gatherings should take place.
Exercise and Sporting Events
Training and matches
No training or matches should take place, with the following exceptions:
non-contact training can continue for school aged children, outdoors in pods of 15
professional, elite sports and inter-county Gaelic games, horse-racing and greyhound racing are permitted to continue behind closed doors
All other training activities should be individual only.
No exercise or dance classes are permitted.
Gyms/leisure centres/swimming pools closed
Religious Services
Services will be held online.
Funerals
Up to 10 mourners can attend
Museums /Galleries /Libraries All venues closed.
Libraries will be available for online services only.
Bars Cafes Restaurants
Take away food or delivery only.
Wet Pubs
Take away or delivery only.
Wet pubs in Dublin remain closed
Nightclubs, discos, casinos
Nightclubs, discos and casinos will remain closed
Hotels
Hotels, guesthouses and B&Bs may remain open, but only to support provision of essential services.
Retail
retail will remain open Face coverings must be worn
Work You should work from home unless you are providing an essential service for which your physical presence is require
Domestic Travel Restrictions
Stay at home.
Exercise within 5 kilometres of home.
There will be a penalty for movement outside 5 kilometres of home, with the following exceptions:
travel to and from work, where work involves providing an essential service
to attend medical appointments and collect medicines and other health products
travel to attend disability day services
for food shopping
for vital family reasons, such as providing care to children, elderly or vulnerable people, and in particular for those who live alone but excluding social family visits
for farming purposes, that is food production or care of animals
to attend a wedding or funeral
to visit a grave
 Schools/ Creches Early learning
In line with current NPHET advice in respect of Level 5, schools, early learning and childcare services will continue to remain open and are deemed essential.
Higher Education
Primarily online with exemptions for essential onsite activities.
Outdoor play areas
Open with protective measures in place.
Transport
Walk or cycle where possible.
Public transport will operate at 25% capacity for the purposes of allowing those providing essential services to get to work.
School transport is unaffected.
Over 70s /Medically vulnerable
Those aged over 70 and the medically vulnerable are advised to continue to exercise personal judgement. It is recommended that they stay at home as much as possible, limit engagement to a very small network for short periods of time, while remaining physically distanced.
When taking exercise outdoors, it is important to maintain 2 metres distance from others and wash hands on returning home.
It is recommended to shop during designated hours only, while wearing a face covering, and to avoid public transport
Visiting Long term residential facilities Suspended, with the exception of visits required for critical and compassionate circumstances.
Update on Schools remaining open 19th of Oct
 Schoold Update :Education cost from lockdown on the lock down was immense.
The Government recently changed the wording of the Living with Covid plan for Level 5 in relation to schools remaining open. The updated version reads: 'recommendation based on precise situation evidence at the time' as opposed to 'remain open' as it previously ­ ad.However, the Minister Donnelly. said this week that he was in favour of keeping schools open as they are not linked with high transmission of the virus. 'I received a comprehensive report about a week ago looking at the positivity rates in schools compared to the community. 'The information I'm being given is that the schools are safe, within the context of a world where we have Covid.'
https://www.msn.com/en-ie/news/other/exclusive-nphet-advises-government-to-place-entire-country-in-level-5-for-six-weeks/ar-BB1a5dIK?ocid=msedgntp
 Epidemiology of COVID-19 in Ireland Report prepared by HPSC on 19/10/2020 for National Public Health Emergency Team
Vaccine Update Pfizer's and our partner BioNTech's COVID-19 vaccine.
An Open Letter from Pfizer Chairman and CEO Albert Bourla
I would like to provide greater clarity around the development timelines for Pfizer's and our partner BioNTech's COVID-19 vaccine.
There are three key areas where, as with all vaccines, we must demonstrate success in order to seek approval for public use. First, the vaccine must be proven effective, meaning it can help prevent COVID-19 disease in at least a majority of vaccinated patients. Second and equally important, the vaccine must be proven safe, with robust safety data generated from thousands of patients. And finally, we must demonstrate that the vaccine can be consistently manufactured at the highest quality standards. To ensure public trust and clear up a great deal of confusion, I believe it is essential for the public to understand our estimated timelines for each of these three areas.
This means we may know whether or not our vaccine is effective by the end of October. To do so, we must accumulate a certain number of COVID-19 cases in our trial to compare the effectiveness of the vaccine in vaccinated individuals to those who received a placebo. Since we must wait for a certain number of cases to occur, this data may come earlier or later based on changes in the infection rates. As Pfizer is blinded to who received the vaccine versus the placebo, a committee of independent scientists will review the complete data and they will inform us if the vaccine is effective or not based on predetermined criteria at key interim analysis points throughout the trial. A key point that I'd like to make clear is that effectiveness would satisfy only one of the three requirements and, alone, would not be enough for us to apply for approval for public use.
The second requirement is to prove that the vaccine is safe. Based on our current trial enrolment and dosing pace, we estimate we will reach this milestone in the third week of November. Safety is, and will remain, our number one priority, and we will continue monitoring and reporting safety data for all trial participants for two years. And finally, if we achieve a positive efficacy readout and a robust safety profile, the last requirement will be the submission of manufacturing data that demonstrates the quality and consistency of the vaccine that will be produced. So, let me be clear, assuming positive data, Pfizer will apply for Emergency Authorization Use in the U.S. soon after the safety milestone is achieved in the third week of November. All the data contained in our U.S. application would be reviewed not only by the FDA's own scientists but also by an external panel of independent experts at a publicly held meeting convened by the agency. The timelines above reflect our best estimates of when these important milestones could be achieved. purpose is to discover breakthroughs that change patients' lives. I cannot think of a breakthrough that would be more meaningful to a greater number of people than an effective and safe COVID-19 vaccine.
In the meantime, I hope you and your loved ones are staying safe and well.
https://www.pfizer.com/news/hot-topics/an_open_letter_from_pfizer_chairman_and_ceo_albert_bourla
Defining Test Sensitivity and Specificity
Sensitivity measures how often a test correctly generates a positive result for people who have the condition that's being tested for (also known as the "true positive" rate). A test that's highly sensitive will flag almost everyone who has the disease and not generate many false-negative results. (Example: a test with 90% sensitivity will correctly return a positive result for 90% of people who have the disease, but will return a negative result — a false-negative — for 10% of the people who have the disease and should have tested positive.)
Specificity measures a test's ability to correctly generate a negative result for people who don't have the condition that's being tested for (also known as the "true negative" rate). A high-specificity test will correctly rule out almost everyone who doesn't have the disease and won't generate many false-positive results. (Example: a test with 90% specificity will correctly return a negative result for 90% of people who don't have the disease, but will return a positive result — a false-positive — for 10% of the people who don't have the disease and should have tested negative.)
https://www.healthnewsreview.org/toolkit/tips-for-understanding-studies/understanding-medical-tests-sensitivity-specificity-and-positive-predictive-value/
The BMJ : Interpreting a Covid-19 test result Across the world there is a clamour for covid-19 testing, with Tedros Adhanom Ghebreyesus, director general of the World Health Organization, encouraging countries to "test, test, test." 1 The availability of the complete genome of covid-19 early in the epidemic facilitated development of tests to detect viral RNA.2 Multiple assays with different gene targets have been developed using reverse transcriptase polymerase chain reaction (RT-PCR).3 These viral RNA tests use samples usually obtained from the respiratory tract by nasopharyngeal swab, to detect current infections. Serology blood tests to detect antibodies indicating past infection are being developed; these will not be considered in depth in this article. Testing for covid-19 enables infected individuals to be identified and isolated to reduce spread,4 allows contact tracing for exposed individuals,5 and provides knowledge of regional and national rates of infection to inform public health interventions. However, questions remain on how to apply test results to make optimal decisions about individual patients
https://www.bmj.com/content/bmj/369/bmj.m1808.full.pdf
 HSE Advice CloseV's Casual  Contact If you come into contact with a person who has tested positive for COVID-19 (coronavirus), you may be told that you are a:
HSE Definition of :Close contact
This is only a guide, but close contact can mean:
spending more than 15 minutes of face-to-face contact within 2 metres of someone who has COVID-19, indoor or outdoor
living in the same house or shared accommodation as someone who has COVID-19
sitting within 2 seats of someone who has COVID-19 on public transport or an airplane
Spending more than 2 hours in an indoor space with someone who has COVID-19 will sometimes count as close or casual contact. This could be an office or a classroom. But it will depend on the size of the room and other factors. Public health doctors or contact tracers will let you know if you are at risk during contact tracing and public health risk assessments.
How you'll know if you are a close contact.You'll usually find out if you are a close contact from the:
public health team investigating confirmed cases within a specific setting. For example, a nursing home or workplace
What to do if you are a close contact If you are a close contact, you need to:
If you develop symptoms of COVID-19, you will need to self-isolate.
Second tests for close contacts You may get a second test even if your first test is negative. This is because it can take up to 14 days for the virus to show up in your system after you have been exposed to it. You will need to continue to restrict your movements, even if your first test was negative. A contact tracer will ask you for the date that you last had contact with a positive case. You may be invited for a second test 7 days after this date. Your contact tracer will tell you if you need a second test.
If you do not know when your last contact took place, the contact tracer will record the date of the interview as the last date of contact. Your second test will be for 7 days after this date.
If you are not a close contact and your GP refers you for a test (separate to contact tracing), you will just get one test. In this case, you will not get a second test.
Follow up from contact tracer During the 14 days you are restricting your movements a contact tracer will text or phone you to check if you have any symptoms. If you develop any symptoms of COVID-19, call your GP.
If you test positive and have no symptoms. If you were tested because you are a close contact, you may have no symptoms. If you test positive, you should self-isolate for 10 days from the date of your test.
 Living with someone who is a close contact
You do not need to restrict your movements if you live with or have been in contact with a person who has been told they are a close contact.
But you may be at risk of catching COVID-19 if you live with them and they become unwell. You should follow the advice about protecting yourself and others from COVID-19.
You will become a close contact yourself if they test positive for COVID-19.
Read more about when you might become a close contact and what you will need to do.
HSE definition of : Casual contact
This is only a guide, but casual contact can mean:
spending less than 15 minutes of face-to-face contact within 2 metres of an infected person, indoor or outdoor
being in the same room as an infected person for less than 2 hours
being on public transport or an airplane with an infected person but not sitting near them
Spending more than 2 hours in an indoor space with a person who has COVID-19 will sometimes count as casual contact. This could be an office or a classroom. But it will depend on the size of the room and other factors. Public health teams who risk assess or contact tracers will let you know if you are at risk during contact tracing.
What to do if you are a casual contact
You do not need to restrict your movements, but you should continue to follow the advice on how to protect yourself and others.
If you are a casual contact, you do not need to be tested. But you should know the symptoms of COVID-19 and be aware that you may develop them.
·        If you develop COVID-19 symptoms
If you develop symptoms of COVID-19, you will need to self-isolate and phone your GP straight away to get a test.
Other people you live with will need to restrict their movements
HSE Guidelines Covid-19
How can I prepare for an outbreak in my area?
Create a household plan of action to help protect your health and the health of those you care about in the event of an outbreak of COVID-19 in your community:
Talk with the people who need to be included in your plan and discuss what to do if a COVID-19 outbreak occurs in your community.
Plan ways to care for those who might be at greater risk for serious complications.
Make sure they have access to 2 weeks of medications and supplies in case you need to stay home for prolonged periods of time.
Get to know your neighbours and find out if your neighbourhood has a website or social media page to stay connected.
Create a list of local organizations that you and your household can contact in the event you need access to information, healthcare services, support, and resources.
Create an emergency contact list of family, friends, neighbours, carpool drivers, health care providers, teachers, employers, the local public health department, and other community resources.
National HSCP Office Update – Poster on HSCP's Response During COVID-19
HSCP Response during Covid-19 Poster 
The Lancet False -positive Covid-19 results: hidden problems and costs RT-PCR tests to detect severe acute respiratory syndrome coronavirus 2 (SARS-CoV-2) RNA are the operational gold standard for detecting COVID-19 disease in clinical practice. RT-PCR assays in the UK have analytical sensitivity and specificity of greater than 95%, but no single gold standard assay exists.New assays are verified across panels of material, confirmed as COVID-19 by multiple testing with other assays, together with a consistent clinical and radiological picture. These new assays are often tested under idealised conditions with hospital samples containing higher viral loads than those from asymptomatic individuals living in the community. As such, diagnostic or operational performance of swab tests in the real world might differ substantially from the analytical sensitivity and specificity.
Although testing capacity and therefore the rate of testing in the UK and worldwide has continued to increase, more and more asymptomatic individuals have undergone testing. This growing inclusion of asymptomatic people affects the other key parameter of testing, the pretest probability, which underpins the veracity of the testing strategy. In March and early April 2020, most people tested in the UK were severely ill patients admitted to hospitals with a high probability of infection. Since then, the number of COVID-19-related hospital admissions has decreased markedly from more than 3000 per day at the peak of the first wave, to just more than 100 in August, while the number of daily tests jumped from 11 896 on April 1, 2020, to 190 220 on Aug 1, 2020. In other words, the pretest probability will have steadily decreased as the proportion of asymptomatic cases screened increased against a background of physical distancing, lockdown, cleaning, and masks, which have reduced viral transmission to the general population. At present, only about a third of swab tests are done in those with clinical needs or in health-care workers (defined as the pillar 1 community in the UK), while the majority are done in wider community settings (pillar 2). At the end of July 2020, the positivity rate of swab tests within both pillar 1 (1·7%) and pillar 2 (0·5%) remained significantly lower than those in early April, when positivity rates reached 50%.
https://www.thelancet.com/journals/lanres/article/PIIS2213-2600(20)30453-7/fulltext
What is the false negative rate for swab tests for COVID-19 and are there more reliable ways of testing? Are rectal swab tests effective in detecting COVID-19 for patients presenting with gastrointestinal problems?
In a nutshell .The diagnosis of COVID-19 is made by detection of SARS-CoV-2 RNA by reverse-transcription polymerase chain reaction (RT-PCR). RT-PCR is widely seen as the gold standard for clinical detection of SARS-CoV-2 5, 8,10,11,15 . The CDC recommends collection of a nasopharyngeal swab specimen to test for SARS-CoV-2 4 . Oropharyngeal, nasal mid-turbinate or nasal swabs of both nares are acceptable alternatives for symptomatic patients if nasopharyngeal swabs are unavailable5 . In order to reduce the level of false negatives, an optimised droplet digital PCR (ddPCR)test has been developed to detect SARS-CoV-2 which has had romising results .A positive test for SARS-CoV-2 generally confirms the diagnosis of COVID-19, but false negative tests from upper respiratory specimens have been well documented5 . It is unclear the exact percentage of tests that produce false negatives but evidence from China proposes a rate as high as 30%14, 26, 27 .A systematic review of the accuracy of COVID-19 tests reported false negative rates of between 2% and 29%14 . One report suggests that inadequate nasopharyngeal sampling performed by untrained operators in the presence of nasal obstruction can be a relevant case of false-negative findings10 . If initial testing is negative but the suspicion for COVID-19 remains it is suggested to repeat the test which decreases the chances of failing to identify infected individuals5, 15, 18 ; in such cases, it is recommended to test lower respiratory tract specimens, if possible2, 4, 5 . National Health Library and Knowledge Service | Evidence Team Summary of Evidence: COVID-19 CURRENT AS ATJUNE 192020 VERSION 2.0 2 Clinical judgement should be used in the case of patients returning negative tests if patients are thought likely to be infected16, 27 . Chest CT scans have been suggested as a screening modality for SARS-CoV2 especially if swab tests are negative for patients with a high suspicion of infection9, 14, 17, 18 .Although the sensitivity of chest CTs is high, a negative result does not exclude COVID-197 .Blood test analysis has been suggested as an alternative to RT-PCR for identifying COVID-19, especially in poorer countries that have a shortage of specialised laboratories. Some patients may present with digestive symptoms such as abdominal pain, nausea or vomiting5as their chief complaint25 . Ng and Tilg suggest that rectal swabs have an important part to play in confirming SARS-CoV-2 infection. Prolonged fecal shedding in infected patients even after viral clearance in the respiratory tract indicates that stool testing should be considered in patients with COVID-19 with appropriate transmission precautions for hospitalised patients who remain stool positive24 . Some patients test positive on rectal swabs in the first days of COVID-19 onset which points towards the usefulness of rectal swabs at the very onset of the disease to confirm or even diagnose COVID-1920, 23 . Serologic tests ¾as soon as generally available and adequately evaluated ¾should be able to identify patients who have either a current or a previous infection but negative In cases where NAAT assays are negative and there is a strong epidemiological link to COVID-19 infection, paired serum samples in the acute and convalescent phase could support diagnosis once validated serology tests are available
Full Access to the Report https://hselibrary.ie/wp-content/uploads/2020/07/Evidence-Summary-COVID-19-False-NegativeV2.pdf
RSCI New blood test predicts which COVID-19 patients will develop severe infection
Scientists have developed, for the first time, a score that can accurately predict which patients will develop a severe form of COVID-19.
The study, led by researchers at RCSI University of Medicine and Health Sciences, is published in Opens in new window The Lancet's translational research journal EBioMedicine.. The measurement, called the Dublin-Boston score, is designed to enable clinicians to make more informed decisions when identifying patients who may benefit from therapies, such as steroids, and admission to intensive care units.
Until this study, no COVID-19-specific prognostic scores were available to guide clinical decision-making. The Dublin-Boston score can now accurately predict how severe the infection will be on day seven after measuring the patient's blood for the first four days. The blood test works by measuring the levels of two molecules that send messages to the body's immune system and control inflammation. One of these molecules, interleukin (IL)-6, is pro-inflammatory, and a different one, called IL-10, is anti-inflammatory. The levels of both are altered in severe COVID-19 patients. Based on the changes in the ratio of these two molecules over time, the researchers developed a point system where each 1-point increase was associated with 5.6 times increased odds for a more severe outcome. "The Dublin-Boston score is easily calculated and can be applied to all hospitalised COVID-19 patients," said RCSI Professor of Medicine Gerry McElvaney, the study's senior author and a consultant in Beaumont Hospital.
"More informed prognosis could help determine when to escalate or de-escalate care, a key component of the efficient allocation of resources during the current pandemic. The score may also have a role in evaluating whether new therapies designed to decrease inflammation in COVID-19 actually provide benefit."
The Dublin-Boston score uses the ratio of IL-6 to IL-10 because it significantly outperformed measuring the change in IL-6 alone. Despite high levels in blood, using only IL-6 measurements as a COVID-19 prognostic tool is hindered by several factors. IL-6 levels within the same patient vary over the course of any given day, and the magnitude of the IL-6 response to infection varies between different patients. The Dublin-Boston score was developed by researchers from RCSI, Harvard University, Beaumont Hospital in Dublin and the Brigham and Women's Hospital in Boston
https://www.rcsi.com/dublin/news-and-events/news/news-article/2020/10/new-blood-test-predicts-which-covid19-patients-will-develop-severe-infection
 Diagnostic testing and screening for SARS-CoV-2
Samples for diagnostic tests for SARS-CoV-2 can be taken from the upper (nasopharyngeal/oropharyngeal swabs, nasal aspirate, nasal wash or saliva) or lower respiratory tract (sputum or tracheal aspirate or bronchoalveolar lavage – BAL). Data comparing the accuracy of RT-PCR testing suggest that test sensitivity may vary by type of specimen.
One study suggested that viral RNA levels are higher, and RNA is more frequently detected in nasal specimens as compared to oral specimens, however this finding was based on a small number of nasal swabs tested [1]. A COVID-19 investigation team in the US comparing 117 pairs of nasopharyngeal and oropharyngeal specimens from 12 patients simultaneously, found that 32 pairs were discordant with one test positive and the other negative: the nasopharyngeal specimen tested positive in 66% of those pairs compared with 34% for the oropharyngeal specimen [2]. Another study did not show higher viral RNA levels in nasopharyngeal compared with oropharyngeal specimens [3].
When comparing different types of specimens, preliminary results from a pre-print article not yet peer-reviewed showed that the most accurate sample for the diagnosis of SARS-CoV-2 was sputum, followed by nasal swabs and throat swabs [4]. A meta-analysis of saliva testing studies found 91% (95%CI = 80%-99%) sensitivity for saliva tests and 98% (95%CI 89%-100%) sensitivity for nasopharyngeal swab tests in previously confirmed COVID-19 infected patients, with moderate heterogeneity among studies [5]. Another study showed that saliva was the most appropriate sample for diagnosis of SARS-CoV-2[6]. Saliva offers a non-invasive specimen that can also be considered for self-sampling. In a situation where a nasopharyngeal or other above-mentioned specimen is not acceptable, saliva could be considered as an alternative specimen.
The combination of nasopharyngeal/oropharyngeal swab samples proved more sensitive for diagnosis of SARS-CoV-2 compared to nasopharyngeal swab only in three different studies
https://www.ecdc.europa.eu/en/covid-19/latest-evidence/diagnostic-testing
 Humidifiers may help to limit infections in winter
Japanese supercomputer has shown that humidity can have a large effect on the dispersion of virus particles, pointing to heightened coronavirus contagion risks in dry, indoor conditions during the winter months.
The finding suggests that the use of humidifiers may help limit infections during times when window ventilation is not possible, according to a study released on Tuesday by research giant Riken and Kobe University.
The researchers used the Fugaku supercomputer to model the emission and flow of virus-like particles from infected people in a variety of indoor environments.
Air humidity of lower than 30pc resulted in more than double the number of aerosolised particles compared with levels of 60pc or higher, the simulations showed.
The study also indicated that clear face shields are not as effective as masks in preventing the spread of aerosols.
Other findings showed that diners are more at risk from people to their side compared with across the table, and the number of singers in choruses should be limited and spaced out.
There has been a growing consensus among health experts that the Covid-19 virus can be spread through the air. The US Centres for Disease Control and Prevention (CDC) revised its guidance this month to say the pathogen can linger in the air for hours.
Irish Independent Thursday 15t of oct
How can airborne transmission of COVID-19 indoors be minimised?
During the rapid rise in COVID-19 illnesses and deaths globally, and notwithstanding recommended precautions, questions are voiced about routes of transmission for this pandemic disease. Inhaling small airborne droplets is probable as a third route of infection, in addition to more widely recognized transmission via larger respiratory droplets and direct contact with infected people or contaminated surfaces. While uncertainties remain regarding the relative contributions of the different transmission pathways, we argue that existing evidence is sufficiently strong to warrant engineering controls targeting airborne transmission as part of an overall strategy to limit infection risk indoors.
https://www.sciencedirect.com/science/article/pii/S0160412020317876
WHO criteria for discharge from isolation as part of the clinical care pathway of a COVID-19 patient
Within the Clinical Management of COVID-19 interim guidance published on 27 May 2020,1 WHO updated the criteria for discharge from isolation as part of the clinical care pathway of a COVID-19 patient. These criteria apply to all COVID-19 cases regardless of isolation location or disease severity.
Criteria for discharging patients from isolation (i.e., discontinuing transmission-based precautions) without requiring retesting:
For symptomatic patients: 10 days after symptom onset, plus at least 3 additional days without symptoms (including without fever and without respiratory symptoms)
For asymptomatic cases: 10 days after positive test for SARS-CoV-2
For example, if a patient had symptoms for two days, then the patient could be released from isolation after 10 days + 3 = 13 days from date of symptom onset; for a patient with symptoms for 14 days, the patient can be discharged (14 days + 3 days =) 17 days after date of symptom onset; for a patient with symptoms for 30 days, the patient can be discharged (30+3=) 33 days after symptom onset).
*Countries may choose to continue to use testing as part of the release criteria.  If so, the initial recommendation of two negative PCR tests at least 24 hours apart can be used.
ECDC Scientific evidence on SARS-CoV-2 shedding
Scientific evidence on SARS-CoV-2 shedding Incubation period: The median incubation period is considered to be five to six days for COVID-19, with a range from one to 14 days. According to modelling data it remains prudent to consider a period of at least 14 days as an upper limit of the incubation period [2,3]. Viral shedding: Over the course of the infection, viral RNA has been identified in respiratory tract specimens up to 1–2 days before the onset of symptoms. Viral load persists up to eight days after the onset of symptoms in mild cases and peaks in day 11 in more severe cases[4-5]. The current update reflects these findings. However, more research is needed on the level and duration of viral shedding in the various patient groups and in the context of asymptomatic and pre-symptomatic infections. There is no evidence on the duration of viral shedding after resolution of fever. In terms of viral load profile, SARS-CoV-2 is similar to that of influenza, which peaks at around the time of symptom onset, but contrasts with that of SARS-CoV-1 and MERS-CoV, which peak in the second week after symptom onset. Older age and more severe infections have been associated with higher viral loads [5,6]. Viral RNA has been detected in faeces from day five after symptom onset and up to four to five weeks in moderate cases, as well as in whole blood [7], serum [8,9], saliva [3,6] and urine [6,10]. Prolonged viral RNA shedding has been reported from nasopharyngeal swabs (up to 37 days after onset of symptoms among adult patients) [11] and in faeces (more than one month after infection in paediatric patients) [12]. The viral load can be a potentially useful marker for assessing disease severity and prognosis: a recent study indicated that viral loads in severe cases were up to 60 times higher than in mild cases [5]. Although there is no specific evidence for COVID-19, immunocompromised patients may shed SARS-CoV-2 virus for prolonged periods similar to other respiratory viruses. Viral RNA shedding of SARS-CoV-2 does not equate with infectivity, unless there is proof that the virus can be isolated and cultured from the particular samples. On the other hand, the infectious dose has not been determined; therefore, it is unclear how much virus is needed to infect humans. Infection in asymptomatic individuals: Asymptomatic infection at time of laboratory confirmation has been reported from many settings, with a large proportion of these cases experiencing some symptoms at a later stage of infection [6]. There are, however, also reports of cases remaining asymptomatic throughout the whole duration of laboratory and clinical monitoring. Viral RNA, as well as infectious virus has been detected in asymptomatic patients [13-15]. Transmission in pre-symptomatic stage of infection: In symptomatic patients, the high viral load close to symptom onset suggests that SARS-CoV-2 can be easily transmissible at an early stage of infection [6,15-18]. Uncertainties remain with regards to the influence of pre-symptomatic transmission on the overall transmission dynamics of the pandemic because of the suboptimal level of evidence on transmission from asymptomatic cases mostly originating from case reports. Comparable viral loads in asymptomatic and symptomatic patients also indicate the potential of virus transmission from asymptomatic patients. Pre-symptomatic transmission has been inferred through modelling, and the proportion of pre-symptomatic transmission was estimated between 48% and 62% [19]. Pre-symptomatic transmission was deemed likely based on a shorter serial interval of COVID-19 (4.0 to 4.6 days) than the mean incubation period (five days). The authors indicated that many secondary transmissions would have already occurred at the time when symptomatic cases are detected and isolated [18,20,21]. Immunity:.
https://www.ecdc.europa.eu/sites/default/files/documents/covid-19-guidance-discharge-and-ending-isolation-first%20update.pdf
Inference of person-to-person transmission of COVID-19 reveals hidden super-spreading events during the early outbreak phase
Coronavirus disease 2019 (COVID-19) was first identified in late 2019 in Wuhan, Hubei Province, China and spread globally in months, sparking worldwide concern. However, it is unclear whether super-spreading events occurred during the early outbreak phase, as has been observed for other emerging viruses. Here, we analyse 208 publicly available SARS-CoV-2 genome sequences collected during the early outbreak phase. We combine phylogenetic analysis with Bayesian inference under an epidemiological model to trace person-to-person transmission. The dispersion parameter of the offspring distribution in the inferred transmission chain was estimated to be 0.23 (95% CI: 0.13–0.38), indicating there are individuals who directly infected a disproportionately large number of people. Our results showed that super-spreading events played an important role in the early stage of the COVID-19 outbreak.
https://www.nature.com/articles/s41467-020-18836-4
Duration of Isolation and Precautions for Adults with COVID-19
Available data indicate that persons with mild to moderate COVID-19 remain infectious no longer than 10 days after symptom onset. Persons with more severe to critical illness or severe immunocompromise likely remain infectious no longer than 20 days after symptom onset.  Recovered persons can continue to shed detectable SARS-CoV-2 RNA in upper respiratory specimens for up to 3 months after illness onset, albeit at concentrations considerably lower than during illness, in ranges where replication-competent virus has not been reliably recovered and infectiousness is unlikely. The etiology of this persistently detectable SARS-CoV-2 RNA has yet to be determined. Studies have not found evidence that clinically recovered persons with persistence of viral RNA have transmitted SARS-CoV-2 to others. These findings strengthen the justification for relying on a symptom based, rather than test-based strategy for ending isolation of these patients, so that persons who are by current evidence no longer infectious are not kept unnecessarily isolated and excluded from work or other responsibilities.
Reinfection with SARS-CoV-2 has not yet been definitively confirmed in any recovered persons to date. If, and if so when, persons can be reinfected with SARS-CoV-2 remains unknown and is a subject of investigation. Persons infected with related endemic human betacoronavirus appear to become susceptible again at around 90 days after onset of  infection. Thus, for persons recovered from SARS-CoV-2 infection, a positive PCR during the 90 days after illness onset more likely represents persistent shedding of viral RNA than reinfection.
If such a person remains asymptomatic during this 90-day period, then any re-testing is unlikely to yield useful information, even if the person had close contact with an infected person.
If such a person becomes symptomatic during this 90-day period and an evaluation fails to identify a diagnosis other than SARS-CoV-2 infection (e.g., influenza), then the person may warrant evaluation for SARS-CoV-2 reinfection in consultation with an infectious disease or infection control expert. Isolation may be warranted during this evaluation, particularly if symptoms developed after close contact with an infected person.
Correlates of immunity to SARS-CoV-2 infection have not been established. Specifically, the utility of serologic testing to establish the absence or presence of infection or reinfection remains undefined.The recommendations below are based on the best information available in mid-July 2020 and reflect the realities of an evolving pandemic. Even for pathogens for which many years of data are available, it may not be possible to establish recommendations that ensure 100% of persons who are shedding replication-competent virus remain isolated. CDC will continue to closely monitor the evolving science for information that would warrant reconsideration of these recommendations.
https://www.cdc.gov/coronavirus/2019-ncov/hcp/duration-isolation.html
ECDC Reinfection with SARS-CoV-2: considerations for public health response
Cases with suspected or possible reinfection with SARS-CoV-2 have been recently reported in different countries [1-4]. In many of these cases, it is uncertain if the individual's Polymerase Chain Reaction (PCR) test remained positive for a long period of time following the first episode of infection or whether it represents a true reinfection. The aim of this Threat Assessment Brief is to elucidate the characteristics and frequency of confirmed SARS-CoV-2 reinfection in the literature, to summarise the findings about SARS-CoV-2 infection and antibody development, and to consider the following questions:
How can a SARS-CoV-2 reinfection be identified?
How common are SARS-CoV-2 reinfections?
What is known about the role of reinfection in onward transmission?
What do these observations mean for acquired immunity? Finally, options for public health response are proposed.
Issues to be considered •
Some patients with laboratory-confirmed SARS-CoV-2 infection have been identified to be PCR-positive over prolonged periods of time after infection and clinical recovery [5,6]. • The duration of viral RNA detection (identification of viral RNA through PCR testing in a patient) has been shown to be variable, with the detection of RNA in upper respiratory specimens shown up to 104 days after the onset of symptoms [7-9]. • Of note, patients have also been reported to have intermittent negative PCR tests, especially when the virus concentration in the sampled material becomes low or is around the detection limit of a test [4]. • It is important to note that the identification of SARS-CoV-2 RNA through PCR (i.e. viral RNA shedding) does not equate to the presence of viable, infectious virus within a patient. • Additional challenges to classifying suspected cases as 'confirmed' reinfections have been the absence of testing results and the lack of genetic sequencing. Confirmation is further complicated because common criteria for the identification of reinfections have not yet been established. • As described below, additional tests must be run to check for viable virus, and when considering an individual patients' situation, test results must be interpreted in combination with additional epidemiological and clinical characteristics.
https://www.ecdc.europa.eu/sites/default/files/documents/Re-infection-and-viral-shedding-threat-assessment-brief.pdf
Reproductive Rate Update
The "R" number in Dublin is finally dropping . Minister for Health Stephen Donnelly has confirmed that the "R" number in Dublin is down to one . There were 226 cases o Covid-19 in Dublin reported in Sunday 11th of October and 814 cases reported countrywide. Dr Tony Holohan has stated his serious concern of rise in number of cases. Micheál Martin Martin has declared that there will not be a circuit breaker type lockdown.
HPSC Update
https://covid19ireland-geohive.hub.arcgis.com/
Laboratory Testing  Figures

Circuit Breaker Approach to Suppress Covid-19
The Tánaiste has mentioned to the parliamentary part the circuit breaker approach on Monday on 5th of October
The idea of a 'circuit breaker' is for a short, sharp period of tightened restrictions intended to curb a rise in coronavirus cases. The temporary lockdown in New Zealand is seen by some as circuit break that gave contact tracers the time to get on top of case numbers. It has been mooted recently for Northern Ireland in order to help lower Covid-19 numbers there, with Scotland also considering such a move. Following Monday's meeting between the Chief Medical Officer Tony Holohan and the Taoiseach, the talk in government circles was that NPHET tried to bounce the government into a circuit breaker situation without consultation.
https://www.thejournal.ie/circuit-breaker-ireland-5225759-Oct2020/
 From Israel, Telegraph correspondent James E Rothwell assesses if the country's short sharp and second hard lockdown is succeeding in smothering infection rates? The percentage of number of people infected has decreased from 15% to 10 % . Israel have utilised the Circuit breaker approach for their second lockdown  and the rate of the virus has slowed. In the first lockdown Israel had a record day of 700 cases . During the time, the decision was made by  the government to use the circuit breaker approach . Israel were experiencing 9,000 cases a day. Israeli's cannot go 1Km form their house and are permitted to exercise on foot for as far as the wish . James discussed that Israel opened up the country too quick after the first lockdown with severe consequences .
https://www.rte.ie/news/player/prime-time-web/2020/1006/
Minister for Health Stephen Donnelly Primetime 6th of Oct
Minister for Health Stephen Donnelly said he had no reservations on the Government's stance not to take NPHET's advice to move to Level 5 restrictions. Speaking on RTÉ's Prime Time, he said the Government is still doing something substantial in moving to Level 3 and it is still following NPHET's advice in "a whole variety of ways". "The entire approach, the framework, fully informed by NPHET. All of the public health advice behind that, from NPHET. The entire package of measures that they are moving to tonight under Level 3 is from NPHET," he said. He said moving to Level 3 is going to be deeply difficult to do while also stating that "it is all clearly in our heads" that Level 4 or Level 5 is a possibility.
Primetime interview 6th Oct  Click Here:
Update on Potential further  Lockdown's
On Saturday, more than 1,000 cases were reported in just one day – the highest total since the height of the ­pandemic on April 15.Chief medical officer Dr Tony Holohan warned the data "shows rapidly increasing growth rates across the country". But Micheál Martin has poured cold water on the idea of a "circuit breaker" lock-down of the kind Tánaiste Leo Varadkar suggested may be needed at some point in the future .Mr Martin said: "I'm not sure that's a runner quite frankly." Any such proposal would have to be "teased out" .Mr Varadkar wrote about the prospect of a second lock-down in yesterday's Sunday Independent. Mr Varadkar said thinking of such a scenario broke his heart but added: "It may well be needed at some point. "No other country in Europe has tried this." He also said some people have suggested a circuit break could "save Christmas", but added: "I am not so sure. The problem is that when you're in full lockdown it's difficult to get out of it. "Last night, Mr Martin told RTÉ News: "A circuit breaker in my view is experimental. I'm not convinced any such move would be a temporary move and I think we need to be clear with people on that. "The idea of locking things down for two weeks and being able to come back as normal – I'm not sure that's a runner quite frankly. "But that needs to be teased out if that is being articulated and debated." Mr Martin said Ireland was at Level 3 restrictions adding: "There's a chance, an opportunity here. "If you look at the figures in Dublin the figures haven't grown exponentially over the last number of days. Across the country in my view it also can have an impact, but it fundamentally depends on our behaviour. "The Health Minister also said a circuit breaker was not under consideration. Virus expert Dr Jack Lambert has warned threats of lockdown are damaging to the public's mental health and instead the Government must push better messaging on wearing masks indoors and outdoors. Dr Lambert, a consultant in infectious diseases from the Mater Hospital in Dublin, said: "The constant threats of lockdown is bad for people's mental health and it isn't helping this situation. "If we really want to stop the spread of the virus, we need the Government, as of now, to instruct absolutely everyone to wear masks inside and outside." Anyone who lives with a vulnerable person, an older person, needs to wear a mask when they are at home with them." This is the best way to keep people safe. And the use of visors without masks needs to be stopped. "Dr Lambert said that an increase of figures in the autumn season was to be expected, "just as we have seen globally". "We knew the virus was going to flare up again in some manner. But the real question is what we did to prepare for that," he said." The World Health Organisation says lockdown is an appropriate plan, for when you come out of lockdown you don't have a resurgence of the virus.
The Irish Independent Monday 12th of October
Garda fines for Non-Compliance with Covid-19 Restrictions The cabinet Covid-19 subcommittee has agreed to introduce graduated fine for non-compliance with coronavirus-related rules. The scale of the fines is yet to be discussed . The fines system may take some time to be introduced as it would likely require the passing of legislation in the Dáil RTE News
Screening for drugs for use against Covid-19: Ultan Power Professor of Molecular Virology Queen's University Belfast.The funding grant has been awarded as one of a first round of projects that will receive £10.5 million as part of the £20 million rapid research response funded by UK Research and Innovation, and by the Department of Health and Social Care through the National Institute for Health Research.Lead researcher Ultan Power is a Professor of Molecular Virology at the Wellcome-Wolfson Institute for Experimental Medicine, Queen's University Belfast. Professor Power is an internationally eminent virologist whose long-spanning career has primarily focused on respiratory syncytial virus (RSV), the leading cause of severe bronchiolitis in young infants and a major cause of severe lung disease in the elderly and immunocompromised individuals. Professor Power and his team of postdoctoral researchers, PhD students and a technician will direct their expertise to screen existing drugs for activity against COVID-19.Professor Power said: "The thousands of deaths caused by coronavirus have been as a result of how the virus attacks the respiratory system, both directly and through stimulating violent immune responses. Our expertise in this area, coupled with the state-of-art models of lung tissue infection in my laboratory enable us to explore in detail how respiratory viruses cause disease. This puts us in a unique position to find an urgently needed treatment. "The research will screen drugs currently approved for human use, including a number of drugs used to treat respiratory diseases, antivirals, and drugs which affect the immune system. The drugs will be applied to the SARS-CoV-2-infected cells to determine whether they are effective in killing the virus or dampening down the violent immune responses that cause lots of damage to the lung tissues. Professor Power explained: "Developing new drugs can take a long time and is very expensive. When facing a pandemic, it is crucial that we find treatment options as soon as possible. Our research approach will focus on drugs that are already approved for human use to see whether they can be repurposed to fight COVID-19."Professor Stuart Elborn, Pro Vice-Chancellor of the Faculty of Medicine, Health and Life Sciences and lung infection expert said: "Queen's University has a wealth of research expertise in a range of viral diseases, from understanding how viruses spread to how they affect our immune system as well as leading clinical trials and developing treatments and vaccines. We will harness this knowledge and apply our expertise and learning to tackle the COVID-19 pandemic." Experts views on the Spread of Covid-19 Professor Luke O'Neil Spread of Covid-19 /Dr Gerard Barry, Professor Martin Cormican Professor O'Neill stated how one person can affect 10 to 20 other people . Human interaction is how Covid-19 spreads  rapidly . Professor Martin Cormican stated how Covid-19 can travel like an aerosol as far as 2 metres in poorly ventilate indoor settings. . Its important to maintain good ventilation indoors.Dr Gerad Barry assistant professor of Virology in UCD discussed how Covid -19 is highly infectious and how people can spread the infection when they are asymptomatic and pre-symptomatic . Close contact with an infected person when someone is talking, or breathing can transmit the virus . Micro droplets expelled from someone talking  into the air can last for a few hours in an indoor setting . In poorly ventilated rooms the virus can spread like an aerosol across a room. .
Steroids reduce risk of death in critically ill COVID-19 patients
Cheap and readily available steroids have recently been recommended for use by the World Health Organization in the management of patients with severe or critical COVID-19. We've produced a short visual summary, designed to support clinicians using these medicines as treatment options for people in hospital with severe or critical COVID-19
Link to Visual Summary Click Here:
Northern Ireland Incidence The incidence in Northern Ireland is 235 cases per 100,000 and its 128 per 1000,000 in the Republic of Ireland. There are calls for a coordinated All Ireland Approach to supress the spread of Covis-19 .As of Friday 9th of October 1,080 new cases of Coronavirus in Northern Ireland, a new daily record. Based on population sizes that's equivalent of 2,800 south of the border. No further deaths recorded.
Covid-19 Nightly Incidence reports It is important to note that out of all people who test positive for Covid-19 80% will experience mild to moderate Covid-19 symptoms and 20% will experience more severe symptoms and may require hospitalisation . Out of this 20% only a smaller % will require ICU care. .
Over half of Covid-19 cases now linked to outbreaks, CSO says
More than half of confirmed cases of Covid-19 are now linked to an outbreak – which is defined as two or more cases in the same location and time – with private homes accounting for 61 per cent of outbreak-linked cases for the last seven weeks, new figures show.
Data from the Central Statistics Office (CSO), as part of its Covid-19 deaths and cases series, showed there were 2,440 cases last week, up 66 on the previous week.
The number of confirmed cases has been more than 2,000 for the past three weeks, the CSO said. The data also showed that Dublin accounted for a third (805) of all new cases for the week ending October 2nd.
It was the fourth week in a row that Dublin had more than 800 weekly cases and the sixth week in a row that all counties have recorded new cases of the virus.
Women still make up the majority of confirmed cases, but in recent months this difference has lessened with men accounting for 52 per cent of cases in August and 49 per cent of all cases in September, the CSO analysis states.
https://www.irishtimes.com/news/health/over-half-of-covid-19-cases-now-linked-to-outbreaks-cso-says-1.4376636?utm_source=dlvr.it&utm_medium=twitter
Understanding Case Definition
A surveillance case definition is a set of uniform criteria used to define a disease for public health surveillance. Surveillance case definitions enable public health officials to classify and count cases consistently across reporting jurisdictions. Surveillance case definitions are not intended to be used by healthcare providers for making a clinical diagnosis or determining how to meet an individual patient's health needs.
https://wwwn.cdc.gov/nndss/conditions/coronavirus-disease-2019-covid-19/case-definition/2020/
Understanding case definitions and COVID-19
As the COVID-19 pandemic continues to evolve, we have been able to develop a greater understanding of the infection as a result of having more data generated by the rapid introduction of disease specific surveillance programmes All of this information can, however, be a bit overwhelming and challenging to understand. There are a range of terms, used by epidemiologists and public health specialists as part of their daily work, that are now being frequently reported in relation to COVID-19 and we are rapidly trying to get to grips with this and understand what it means for us, our families and communities.
In this blog, we explain important definitions of COVID-19 infection, and why this level of clarity is important in the management of the current pandemic, for our future monitoring and learning. When we talk about infectious diseases, we need to ensure that everyone's understanding of a 'case' is the same. This is guided by what is known as the case definition. The case definition is a standardised set of criteria used to classify whether someone may have a particular infection, such as COVID-19, and is often agreed nationally by public health authorities. There can be several levels to a case definition which will be based on levels of certainty about whether an individual has a particular disease. For example, during the early stages of the pandemic we were identifying individuals who were 'possible' cases based on a particular set of symptoms and travel history.
If these individuals, then had a laboratory confirmed test result for SARS-CoV2 they would be categorised as a 'confirmed' case of COVID-19.  While this appears straightforward, within each category over time definitions are regularly amended to reflect increasing knowledge of the condition or infection. With COVID-19, the list of symptoms to identify possible cases that should be tested was expanded to include 'anosmia', which is the loss of taste or smell. This occurred because of an increasing knowledge about symptoms present in confirmed cases, acquired through surveillance and other methods such as the Zoe app (https://covid.joinzoe.com/). Updates to the case definition will be helpful in facilitating increased recognition of cases, but we must remember to be cautious in making comparisons, including comparing trends over time and between different countries or places. For example, at the early stages of the pandemic a case was someone admitted to hospital with certain symptoms.
This has now evolved, to be anyone in the community who has a fever, a new continuous cough or a loss of taste or smell. The definition now is therefore capturing a greater spectrum of the disease compared to the more severe disease we would have been capturing in the early phase. It is therefore important to understand how the case definition has changed over time to allow us to accurately interpret the trends.
With changes in testing patterns over time, another important consideration when comparing trends is the 'test positivity'. This helps us to distinguish whether changing case numbers indicates an actual change in the case numbers, or if this is an artefact associated with changes in the pattern of testing. Again, in the early stages of the pandemic when we were testing hospitalised patients with respiratory symptoms the positivity rate was high at around 10-20% in epidemiological weeks 13 – 19. With the expansion of testing in the community this declined to below 1%, but we have seen in recent weeks that this has started to climb again to above 3%. As this has occurred with a sustained level of increased testing, this may represent a real increase in disease incidence.
From a public health perspective, controlling the current pandemic and managing COVID-19 transmission is facilitated by 'possible' cases self-isolating when symptoms develop (to break chains of transmission) and early testing to identify 'confirmed' cases. A UK report estimated that manual contact tracing of non-household members would reduce the number of new infections occurring by 5–15% (DELVE Report).For confirmed cases, contact tracing, which is a well-established public health method that aims to break the chain of viral transmission, is then used to identify any close or high-risk contacts. Isolation of both 'possible' and 'confirmed' cases AND any high-risk or close contacts is an important part of the process to break transmission of COVID-19 and reduce the incidence of the disease in the community
https://www.publichealth.hscni.net/node/5300
Case Definition Ireland: HSE Covid-19 Criteria
You suddenly experience one of these symptoms and there is no other obvious cause:
fever
cough – this can be any kind of cough, not just dry
shortness of breath
loss or change to your sense of smell or taste
The nightly new reports of Covid-19 positive cases is not a live report of accurate figure for that day . The daily number of cases reported is the number of people who have tested positive to date . It is important to note that these tests would have been carried out over the past week .
Types of Covid-19
There are two different types of tests – diagnostic tests and antibody tests. A diagnostic test can show if you have an active coronavirus infection and should take steps to quarantine or isolate yourself from others. Currently there are two types of diagnostic tests which detect the virus – molecular tests, such as RT-PCR tests, that detect the virus's genetic material, and antigen tests that detect specific proteins on the surface of the virus. An antibody test looks for antibodies that are  made by your immune system in response to a  threat, such as a specific virus. Antibodies can help fight infections. Antibodies can take several days or weeks to develop after you have an infection and may stay in your blood for several weeks or more after recovery. Because of this, antibody tests should not be used to diagnose an active coronavirus infection. At this time researchers do not know if the presence of antibodies means that you are immune to the coronavirus in the future.
Types of testing FDA https://www.fda.gov/media/140161/download
Contact Testing and Tracing
Prof. Mary Codd of the UCD School of Public Health, who runs the contact tracing centre at UCD, says that there are currently over 300 contact tracers and that there are plans to increase this to 500 by the beginning of October. The aim is to re-deploy people into contact tracers . At the start of August there was one contact tracing centre and now there are 8 centres.
Contact Tracing Issues Primetime reports difficulties with contact tracers being met with hostility when being called people who have been identified  a close contact.Poeple who know they are close contacts not being contacted by contact tracing. There is delays in contacting close contacts . Prof Codd responded to the issue with close contacts being contacted should not have happened
Breakdown of Covid-9 Incidence (Update form October 10th )
Restrictions Update
NPHET recommended that the whole of Ireland should  move to level 5 . The Taoiseach announced on Monday the 5th of October that the whole country would only move to level 3 at this time .
Irish Independent 6th October . What Level 3 means ?
Pubs, restaurants and cafes
Under Level 3, it states all pubs and restaurants and cafes can remain open with additional restrictions for indoor dining. However in Donegal and Dublin they have restricted to offering takeaway food and deliveries and limited to outdoor dining to a maximum of 15 people
Wet Pubs
Government guidelines state that wet pubs can remain open with additional restrictions in Level 3.However, similarly to restaurants and cafes, in Donegal and Dublin in recent weeks wet pubs have been restricted to takeaway and delivery only.
Hotels and accommodation
Hotels can remain open, but their services are limited to residents. Only people staying in the hotel can dine there.
Gyms, swimming pools and sports
Gyms, leisure centres and swimming pools can remain open with protective measures, for individual training only. Classes are now banned.
Training and matches No matches can take place in Level 3 with the exception professional, elite, intercounty and club championships.
Only non-contact training in pods of up to 15 can happen with an exemption again for professional, elite, inter-county sports and senior club championship teams. Horse-racing can also take place behind closed doors.
Schools and creches
Schools and creches will remain open with protective measures. Further, higher and adult education have to escalate all appropriate protective measures and limit congregation.
 Cinemas, museums, galleries and theatres
Similar to Level 4 and 5, museums, galleries cinemas other cultural attractions all close under Level 3.Libraries will be available for e-services which included a collection service. These are controlled environments with a named event organiser, owner or manager. For example: outdoor arts events, training events. Organised and controlled outdoor gatherings of up to 15 people can take place in Level 3.These events for example an outdoor arts or training event are subject to face coverings and must adhere to social distancing.
Outdoor playgrounds play areas and parks will remain open.
Weddings, funerals and religious services
In Level 3 weddings are restricted to 25 people .In counties currently in Level 2, all except Dublin and Donegal, it would mean 25 fewer people at weddings and funerals than is currently allowed. All religious services must move online. Places of worship can remain open for private prayer
 Non-essential shops
All non-essential shops like clothes and hardware shops can remain open with personal protective measures in place.
 WHO Covid-19 Q&A
Live Q&A on COVID-19 with Dr Mike Ryan and Dr Maria Van Kerkhove. Ask your questions! — sharing a COVID-19 update.
https://www.facebook.com/watch/?v=3273174852799241
Expansion of Public Health Workforce
Health minister Stephen Donnelly has confirmed plans to double the number of public health staff in Ireland. Prior to the Covid-19 pandemic, there were 254 people working full-time across Ireland's public health workforce. Speaking at this morning's Covid-19 Oireachtas Committee, Donnelly confirmed this number will be doubled. In the next two weeks, the HSE will begin a recruitment campaign for 255 staff, including public health doctors, public health nurses, scientists and support staff, the Minister told the committee. Outlining the role of public health staff during the pandemic, Donnelly said: "These teams have been charged with critical jobs, including outbreak management, clinical queries, surveillance management, the operation management of surge capacity and complex contact tracing. "The also play a key role in protecting all of us from other communicable diseases and environmental hazards." Donnelly also announced this morning that he is creating consultant posts for public health doctors. Cabinet yesterday approved the legislation necessary for this.
Watch back: Staff Webinar – COVID-19 Q&A session
To watch a recording of the Staff Webinar COVID-19 Q&A Session with CEO Paul Reid, COO Anne O'Connor and CCO Colm Henry.
 Update Ronan Glynn Acting CMO 28th September
People have been warned there is "absolutely no room for complacency" as 430 new cases of Covid-19 were confirmed yesterday. Acting chief medical officer Dr Ronan Glynn delivered the warning as he urged people in Dublin and Donegal – the two counties in local lockdowns – to work from home if possible. As we start into this new week, I am asking every household across the country to sit together and make a plan to reduce the number of people you meet this week," he said. "We have absolutely no room for complacency. If every person, family, workplace and organisation does not play their part, the situation will continue to deteriorate. "Of the new cases, 212 were in Dublin, 54 in Cork, 23 in Donegal, 23 in Galway and 16 in Louth. Health Minister Stephen Donnelly said four counties – Cork, Galway, Louth and Wicklow – were being looked at "very carefully". He said the HSE was negotiating with each private hospital to ensure there was "surge capacity's chief Paul Reid said there were 110 cases of Covid-19 in hospitals, with 18 people in ICU. He said that while this was "lower than our worst peak, the impact on hospitals is as significant as we're not trying to keep all of our other services too".
Irish Independent 28th September
Covid-19 Restrictions Update
Donegal now has the worst county rate in the whole country at 148.2 per 100,000, which led the Government to act and put the county to Level Three as of last night. In the Stranorlar/Lifford electoral area of Co. Donegal, the incidence rate of 336.1 cases per 100,000 1s the highest in the country. Louth now has the next highest incidence rate in the country at 107.8 per 100,000.At around the time Kildare, Offaly and Laois went into lockdown on August 7, their rates were 82.25, 80.81 and 69.66 respectively. The Taoiseach has signalled that Louth, Kildare, Wicklow, Waterford, Cork and Galway are being 'closely watched'. Co. Waterford's is currently at 86.9, Co. Kildare's is 72.8, Co. Wicklow's is 74.4, Co. Cork is 42.2 and Co. Galway is at 39.1.
The Journal 26th September
HSE Close Contact of Positive Covid -19 Case
If you are a close contact of someone who has tested positive for coronavirus you should be tested for COVID-19. You should also restrict your movements for 14 days. A test will be arranged for you. Please attend your scheduled COVID-19 test.
Testing and contact tracing is crucial in slowing the spread of the virus. We are asking everyone who has been contacted for a test to come forward so we can protect our communities from COVID-19.
Learn more: Click Here:
HSE Winter Plan https://www.hse.ie/eng/services/publications/winter-planning-within-the-covid19-pandemic-october-2020-april-2021.pdf
WATCH: HSE delivers details of Winter Plan for health service
The HSE issues a brief live webinar on the HSE Winter plan .
This briefing again emphasised the importance  of health care workers getting the flu vaccination and the importance of reducing the numbers of contacts each individual have. How many hospital beds that are available is approximately  13,000 and the HSE are looking at bringing an additional 800 beds. Click Here:
HSE Contact Tracing Blog
As we hit the millionth COVID-19 test on Wednesday, one contact tracer has given an insight into an average day carrying out the vital work. "What struck me most was the diversity in people's situations. In my experience, the people that I've called on the phone have been remarkably receptive to my call and have also been forthcoming with all of the required information. Many people have also expressed their thanks and gratitude for the work being done by the health service. Overall, it's been a really positive experience." said Caroline Lennon-Nally. Read more here: Click Here:
HSE Service Continuity in a COVID Environment A Strategic Framework for Delivery
The COVID-19 pandemic has led to unprecedented interruption to normal healthcare activity, with both community and acute settings affected. The anticipated high-volume surge in COVID patients was flattened by close adherence to Public Health advice and levels of capacity within the health system are becoming available for services.  The purpose of this strategic framework for service continuity is to guide the reintroduction of services that were suspended or reduced as a result of COVID-19. In doing so, this document outlines: ● The impact of COVID-19 on services across community and acute settings. ● International context for reintroducing services in a COVID environment. ● Challenges to service continuity in a COVID environment. ● The need for continued adaptation to ways of working in service delivery. ● Guiding principles for reintroducing services in a COVID environment. ● An overview of the phased approach to reintroducing services based on an analysis of demand, priorities, risks and benefits across services. ● Common requirements to reintroduce services in a COVID environment. ● Next steps to progress the reintroduction of services.
https://www.hse.ie/eng/services/news/newsfeatures/covid19-updates/service-continuity-in-a-covid-environment-a-strategic-framework-for-delivery1.pdf
 HSE Press Release: Thursday, 24th September 2020
This year the HSE's Winter Plan has been developed within the context of delivering essential healthcare in a COVID-19 environment. A range of initiatives will be undertaken to support this work, which will aim to enhance community capacity and decrease acute hospital demand. Through the prioritisation of Primary Care and Community Services, we will advance the goals of Sláintecare and mitigate the impact of COVID-19.
This plan, which is supported by the allocation of an additional €600m, seeks to support improved patient care in hospitals and in the community while keeping our staff and those who use our services safe in the midst of a global pandemic. Key initiatives within the Winter Plan include:
Additional acute bed capacity
Additional home support packages
Additional HSE procured private bed capacity
Additional intermediate care beds, proposals for acute hospital egress; and
Additional Community Healthcare Networks, Community Specialist Teams (Older Persons and Chronic Disease)
Speaking today CEO of the HSE Mr. Paul Reid said.
"This winter is going to be more difficult than any we've ever faced before. We are living with COVID-19, we are living differently, however we have planned differently, and we have to take confidence in our Winter Plan. By ensuring agility and innovative healthcare measures, we can prioritise the health and wellbeing of our staff and the public, through the provision of healthcare pathways in the community and in our hospitals.
I am asking the public to follow the public health advice, the worst thing we can do is to get complacent. I am also asking those within the priority groups to ensure they get the flu vaccine and give themselves the best opportunity to stay well this winter."
Speaking today, Anne O Connor, HSE Chief Operations Officer said.
"For the forthcoming winter period, we are focusing on the resumption of health services, while preparing for the expected pressures associated with winter and delivering services in the context of the continuing presence of COVID-19. Guidance, new processes, and infrastructure will be critical to supporting the resumption of service delivery.
In addition, a Community First approach to the delivery of care will be central to delivering safe, efficient and effective services through winter and beyond. Service delivery will be re-oriented towards general practice, primary care and community-based services."
Reproduction Number Update
The latest figures come as the reproductive rate of the virus in Ireland now stands at between 1.3 and 1.7
https://www.rte.ie/news/coronavirus/2020/0916/1165599-coronavirus-ireland/
 Statement from NPHET 17th of September on Covid-19 Incid
The Health Protection Surveillance Centre has today been informed that 1 person with COVID-19 has died.
There has now been a total of 1,789 COVID-19 related deaths in Ireland.
As of midnight Wednesday 16 September, the HPSC has been notified of 240 confirmed cases of COVID-19. There has now been a total of 32,023* confirmed cases of COVID-19 in Ireland. (*Validation of data at the HPSC has resulted in the denotification of 16 confirmed cases. The figure of 32,023 confirmed cases reflects this.)
Of the cases notified today:
119 are men and 120 are women
61% are under 45 years of age
47% are confirmed to be associated with outbreaks or are close contacts of a confirmed case
44 cases have been identified as community transmission
119 are in Dublin, 19 in Wicklow, 17 in Kildare, 16 in Donegal, 15 in Waterford, 10 in Limerick, 8 in Cork, 6 in Louth, 5 in Wexford and the remaining 24 cases are located in Carlow, Cavan, Clare, Galway, Kilkenny, Laois, Longford, Meath, Monaghan, Offaly, Tipperary, Westmeath
 Resilience and Recovery 2020-2021: View the Plan for Living with COVID-19
From Department of the Taoiseach
The Framework for Restrictive Measures is a risk management strategy for the next 6-9 months.
It is designed to allow individuals, families, businesses and services better understand, anticipate and prepare for the measure's government might introduce to stop escalation of the transmission of the disease. The lower Levels of the framework will be activated when there is low incidence of the disease, with isolated outbreaks, low community transmission. The higher Levels will be used to deal with higher incidences of the disease. It will be possible for different regions and counties to be at a different Level to the National Level, depending on the incidence of the virus in that particular region or county. At all times the priority guiding the plan will be to keep our schools open, while keeping people safe and protecting the resilience of our economy and communities.
Resilience and Recovery Living with Covid plan
 Resilience and Recovery Plan for Living with COVID-19:
Your questions answered
https://www.gov.ie/en/publication/resilience-and-recovery-plan-for-living-with-covid-19-your-questions-answered/  
HSE Q&A Session Covid-19 17th September
The HSE recognise the hard work and dedication of all health care staff delivering services in these challenging times . The HSE  are developing psychosocial framework to provide further mental health supports for healthcare staff  .The webinar discussed the importance on minding your own mental health and take opportunities for  yourself out of the work environment to  engage in some activities that you enjoy.
In terms of investment in public health resources ,the HSE have developed a pandemic workforce plan to facilitate the permanent  recruitment of staff into public health. Facing this winter, the HSE  have committed to hiring an additional 700 staff to work in swabbing so healthcare staff who have been re-deployed into this area can go back to their positions. Testing and Training is now a new function to be included in HSE planning and will be part of the HSE Corporate Plan .  Management of PPE needs to look at differently in light of the pandemic. There was a question asked in this webinar  about the integration of SlainteCrae policies during Covid-19 pandemic. SlainteCare was evident during Covid-19  with an emphasis placed on developing community care practices such as the establishing of  community assessment hubs, SlainteCare  is embedded in the HSE winter plan with the need to develop services within the communities . The HSE recognise that GPs need better access to diagnostic and specialist teams in the community to reduce hospital referrals.  There is a necessity to keep capacity in the acute hospitals for those who have a higher level of need and keep patients  who can be cared for at home and in the  community . Sustainable acute hospital  capacity needs to be built over time and will not happen rapidly . During the winter usually there is a reliance on transitional  care services such as nursing homes , but in light of Covid-19 the HSE cannot rely on this . The funding for the winter plan is 600 million and has been  secured from government . The winter plan will be launched early next week. Community response hubs and teams will be included and supported within the winter plan. The HSE requested that staff get  the flu vaccination and it will be available end of September . The HSE aim to increase 60% vaccination uptake for health care staff to in the  region of 90% . The HSE have assured there is sufficient PPE stockpiled in various locations around Ireland  and they have PPE supply contracts till April 2021
NPHET Professor Philip Nolan
Professor Philip Nolan has warned Ireland could face up to 3,500 daily COVID-19 cases if the virus continues to grow. His warning comes as the Government announced new restrictions on the same day three further deaths relating to COVID-19 and 357 cases were confirmed. We are seeing the level of disease growing again in Ireland, at a rate of 4%-6% per day and a doubling time of 12-18 days (incidentally, in the unlikely scenario where we do nothing to mitigate such growth, this would lead to 1400 – 3500 new cases per day at end October),' he wrote.
'For cases arising in the community in the first phase of the pandemic in Ireland, for those under 65, 11% were hospitalised, 2% admitted to ICU and 0.8% died; for those 65 and over 54% were admitted to hospital, 6% to ICU and 20% died. We need to reduce the number of new cases to a much lower level, not just to prevent avoidable illness and death, but to reduce the risk uncontrolled spread in our community and major outbreaks in vulnerable settings. We owe it to each other to suppress the virus.
Testing Capacity Update
 CEO of HSE Paul Reid has informed the government that there is no scope to expand testing capacity 14,000 tests per day. There is currently no plans to increase testing capacity . There is consideration to changing the criteria for testing . People would have to display a higher number of symptoms before being tested , o another potential suggested was the scaling back of serial testing for example in the meat factories.
Sunday Independent 20th Sept
Director, National Virus Reference Laboratory
Dr Cillian De Gascon  NPHET Chairperson,  Director of the National Virus Laboratory UCD
Dr De Gascon stated the importance of avoiding congregated settings . The time between getting infected and sick is 5 to 7 days. regarding the transmission between kids at schools. Dr De Gascon  stated that children are not getting ill with Covid and do not  transmit as ready as adults. In terms of a vaccine it is  still looking like the middle of 2021. "We had to act now to protect the things we value most; our loved ones, our education, healthcare settings," he added. The medical virologist said Nphet does not have any agenda against pubs or restaurants or gatherings, adding: "We are just trying to limit the number of contacts we all have. "Dr De Gascon said mental health of the nation, social isolation and other difficulties are all considered by the expert group when making recommendations, saying: "A pandemic raging out of control isn't good for the economy or mental health either. We're now trying to find our new equilibrium for dealing with this."Dr De Gascon said the local lockdowns of Laois, Kildare and Offaly provided a template as he stressed that physical distancing is still the best way to stop the spread of coronavirus. "We managed to get our incidence rate down to as low as three [per 100,000 people]. Now it's 50, and in Dublin it's over 100.
The Late Late Show Friday 18th September
Dublin Restrictions
Dublin moved into level 3 as of midnight Friday 18th of September . There is to no unnecessary travel in or out of Dublin for the next three weeks . Ireland has the lowest level of ICU capacity per capita in the EU . Every effort is being made to reduce the Covid-1 incidence in Dublin and people are encouraged to follow all the guidance and work together to reduce the number of people contracting Covid-19.
Opening of Pubs
Thousands of Pubs that have been closed for the last six months will be allowed to re-open from today. Earlier this month the government announced that so-called 'wet pubs would have the green light to reopen, with restrictions to ensure staff and customer safety. Today's re-opening excludes pubs in Dublin, with local restrictions closing all bars and restaurants in the county to indoor service. In the capital, bars and restaurants can continue to serve customers in an outdoor area, but customers must order a substantial meal. Food businesses that do not have an outdoor space can offer a takeaway or delivery service for the next three weeks.
Guidelines
Outside Dublin, pubs that do not serve food and that have been unable to open their doors to customers at all for the last six months will be back in business from today.
Under guidelines for pubs, customers will not be able to sit at or order at the bar – it will be table service only – and groups will be limited to six people from three different households, with distancing of one metre.
If a premise's can implement two metre distancing,  the 105 minute time limit for customers can be waived. All customers are to be off the premises by 11.30pm.
Under the guidelines, pubs will keep a record of the arrival times of their customers as well as their contact details and group numbers.
The Journal 21st Sept https://www.thejournal.ie/wet-pubs-reopen-5210113-Sep2020/
WHO Avoid the three C's Poster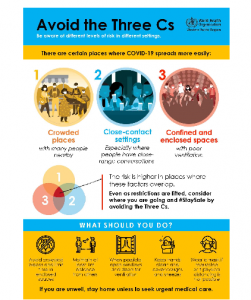 Scientists at the University of Adelaide in Australia are training dogs to detect Covid-19.
Researchers from the School of Animal and Veterinary Sciences at the university are training sniffer dogs, including English springer spaniel Floki, to identify Covid-19 in people. The study is part of an international research effort aimed at training Covid-19 detection dogs who could be used to screen people for coronavirus at places including airports, hospitals or quarantine facilities. The dogs taking part in the study at the University of Adelaide are being trained to pick the positive Covid-19 sweat sample from a line-up of samples, using positive reinforcement in the form of play with their favourite toy for each correct answer. Early results also show dogs trained in this way are able to identify infected individuals prior to the development of symptoms, or in those who are otherwise asymptomatic.
https://www.rte.ie/news/newslens/2020/0918/1165994-dogs-detect-covid-19/
NPHET/Government  National Covid Grading System Plans
Up to five levels of Covid-19 restrictions will apply across the country under new plans being finalised by the Government. The Cabinet sub-committee on Covid-19 met today to discuss the medium-term Covid strategy, which is due to be published next week. It also considered new advice from the National Public Health Emergency Team, which met this morning. It is understood the Government will not make a decision on NPHET's recommendations until Tuesday's Cabinet meeting. The overall plan is due to be published on Tuesday and will set out a "living with Covid" plan for at least six months. The medium-term plan is expected to set out a system of applying grades from one to five to parts of the country, along with an overall national grade. One would be normal while five would be the most serious level, with the most severe restrictions applying including a possible lockdown.
It would set out clearly what restrictions would apply at each level for social gatherings, sport, travel and religious services. There would be an overall national grade, along with grades per county or on an area or regional basis. The key criteria for determining the grades would be the 14-day incidence rate of Covid-19 cases per 100,000 people, as well as the number of hospital admissions with the disease and the ICU admissions. Reopening international travel will also form a key part of the plan with the Government likely to opt into the European Commission's new system of colour coded countries and regions. That proposal would calibrate zones as green, amber or red based on Covid-19 rates along with a grey status if there is not enough information. Travellers returning from green countries would not have to quarantine.
The co-ordinated EU plan would result in a colour-coded map of Europe which is updated weekly. The Minister for Public Expenditure and Reform said a new roadmap is necessary in order to live with the virus. Speaking on RTÉ's Prime Time, Michael McGrath said the plan will bring a degree of certainty to businesses going forward. The economy has substantially opened up, he said, but aviation has been devastated. Pat Byrne, the Chief Executive of City Jet, said a colour-coded map of Europe would make a "huge difference" and he wants to see Ireland fully participating in it. The Government has put the economy "into a coma" he said, adding that people should be trusted to get on with their lives while taking appropriate measures to curb the spread of the virus .Also on the programme, Prof Sam McConkey said that while limiting the number of visitors to our households will make a difference, he expects to see more deaths, ICU admissions and hospitalisations in the coming weeks.He said there should be faster testing, as well as ambulances with testing resources that can go directly to people.
Information for Students and Parents on Returning to School  
How to prepare your child for returning to school during COVID-19
Health advice for parents
Information in your language
Frequently raised topics
Directory of CPD and online resources
Below are four videos we have created with some back to school advice for parents and children attending primary and post primary school. You are encouraged to watch these videos with your child before they return to school.
https://www.gov.ie/en/publication/a04fc-advice-for-students-and-their-families/
 HPSC Report of the profile of COVID-19 cases in healthcare workers in Ireland
Healthcare worker (HCW) status is determined both by self-classification and workplace. The definition includes anyone who self- identifies as an HCW irrespective of where they work. In addition, all staff that work in any healthcare facility (includes cleaners, household staff etc.) are classified as HCWs. The category includes healthcare workers employed both by public and private providers
Link to Report of the profile of COVID-19 cases in healthcare workers in Ireland
 WHO Guidance on Small Gatherings
Any decision to hold an event during the COVID-19 pandemic, no matter how large or small, should rely on a risk-based approach. WHO has provided guidance on how such a risk-based approach can be taken? This Q&A is focused on small, non-professional gatherings and events (i.e. birthday parties, children's football games, family occasions). Precautions to consider include actions to prevent transmission between people, and where to hold the venue and how it can be modified to make a safer environment. Cancelling a planned event is an option that should always be considered, especially in case of non-essential events or when precautions cannot be implemented or adequately communicated.
I am ATTENDING a small gathering or an event such as a wedding, a party or sports tournament. What precautions should I take to protect myself and others from getting infected with COVID-19?
Always check local regulations before attending an event.
Stay at home if you are feeling unwell.
Always comply with the following 3 basic preventive measures:
Maintain at least 1 metre distance from others and wear a mask if you cannot guarantee this distance.
Cover a sneeze or cough with a tissue or bent elbow, and immediately dispose of tissue in a closed-lid bin. Avoid touching eyes, nose and mouth.
Wash your hands frequently with soap and water, or with a hand sanitizer.
Isolation quick guide –  applying to those aged greater than  3 months and up to 13th birthday
COVID-19 symptoms: Fever more than or equal to 38.0⁰C or new cough or shortness of breath or anosmia, dysguesia or ageusia* Self-isolation means staying indoors and completely avoiding contact with other people. This includes other people in your household, as much as possible. It applies to people with proven or suspected COVID-19. Restricting movement means avoiding contact with other people and social situations as much as possible. It applies to those who are without symptoms but considered at higher risk of developing COVID-19 because they were exposed to a particular risk Click here:
I am ORGANIZING a small gathering or an event such as a wedding, a party or sports tournament. What precautions should I take to prevent the spread of COVID-19 among guests?
Always check local guidelines before planning your event.
Brief guests about precautions before the event starts; during the event, remind guests of these precautions and ensure they are followed.
Choose outdoor venues over indoor spaces – if indoors, ensure the area is well-ventilated.
Minimize crowding by staggering arrivals and departures, numbering entries, designating seats/places and marking the floor to ensure physical distancing between people of at least one meter.
Provide all necessary supplies – hand hygiene stations, hand sanitizer or soap and water, tissues, closed-lid bins, distance markers, masks.
Oxford University Vaccination Trial Update
 The coronavirus vaccine trials conducted by Oxford University are reportedly set to continue, days after they were paused for an urgent investigation into potentially risky side effects.
AstraZeneca, the company developing the vaccine with researchers from the University of Oxford, said on Tuesday it had put on hold late-stage trials to allow an independent committee to review safety data.
The pause was announced after a volunteer reportedly began suffering from neurological symptoms associated with a rare spinal inflammatory disorder called transverse myelitis.
 WHO Weekly Operational Update on COVID-19 9 September 2020
Statement on the introduction of new measures to limit the spread of COVID-19 From Department of the Taoiseach  Published at: 18 August 2020 
Following a Cabinet meeting today (Tuesday) the government has decided to implement a number of measures in an effort to stop the spread of COVID-19.The virus is on the increase in Ireland and in recent weeks there have been multiple outbreaks across workplaces, households, and in sports clubs. We need to act now to protect the vulnerable in our communities, enable schools to reopen and support the resumption of health services. A number of measures are being put in place across the country until 13 September in an effort to stop the spread of the virus by limiting congregation and social interaction among households. There will also be an enhanced level of enforcement to ensure that workplaces, venues and organisers of activities adhere to the guidelines.
These are the measures agreed today:
At home Visitors to your home or garden should be limited to not more than 6 from not more than 3 households
Cultural and social activities Restaurants and cafes (including pubs that serve food and hotel restaurants)
they should close by 11.30pm
all customer facing staff to wear face coverings
all customers to wear face coverings until seated and again on departure
they are required to keep contact details to support contact tracing
all customers to be seated at a table, with no seating allowed at the bar and table service only
maximum of 6 seated at a table
no formal or informal events or parties should be organised in these premises
all tables must have hand sanitiser
Sports
Sporting events and matches can continue to take place but behind closed doors with:
strict avoidance of gatherings, including social gatherings, before or after events
strict adherence to 2 metre physical distancing before and after events, during breaks in play, on the side-lines and avoidance of team huddles
gyms/leisure centres/swimming pools/exercise and dance studios will remain open with strict distancing and other appropriate protective measures in place
limits of 6 apply to exercise and dance classes with appropriate physical distancing
limits of 15 apply to groups outside including training sessions (with exception of elite/professional sports and horseracing). There should be no mixing between groups
Workplaces
Unless it is absolutely essential for an employee to attend in person, they should work from home.
Travel and transport
people should avoid using public transport where possible
arrangements for school transport will proceed as planned for reopening but the Minster for Education and the Minister for Health and other relevant Ministers will review measures, including any additional resources, to ensure the safe operation of school transport for secondary school children
Over 70s and medically vulnerable
People over 70 and the medically vulnerable can still meet up with people and get outside for exercise but if at all possible should avoid public transport, shop during designated hours or seek assistance through the "community call" if needed in accessing food, essential supplies and medicine.
They are also advised to maintain a 2-metre distance from others when exercising outdoors and wash hands on returning home.
Roadmap for Resilience and Recovery
The government will finalise and publish a Roadmap for Resilience and Recovery in advance of 13 September. This will map how we balance public health, economic and social aspects of living with COVID-19 in the short to medium term and try to bring some greater certainty so that society and business can at least plan forward.
Measures already agreed for Kildare, Laois and Offaly remain in place until 23 August.
Everyone must play their part in ensuring that we suppress the virus so that we don't have to re-impose stricter restrictions in the coming weeks. As a country we worked together to suppress COVID-19, we know what works. We must redouble this effort now and all follow the measures that we know work – regular handwashing, keeping a 2 metres distance between ourselves and others, good cough and sneeze etiquette, wearing face coverings on public transport and in shops and other indoor outlets, limiting contacts with others and self-isolating immediately and ringing the GP if you have any symptoms.
https://www.gov.ie/en/publication/77b6d-statement-on-the-introduction-of-new-measures-to-limit-the-spread-of-covid-19/
ECDC
As of 19 August 2020, 1 962 958 cases have been reported in the EU/EEA and the UK: Spain (364 196), United Kingdom (320 286), Italy (254 636), Germany (226 914), France (221 267), Sweden (85 219), Belgium (78 804), Romania (72 208), Netherlands (63 911), Poland (57 876), Portugal (54 448), Ireland (27 499), Austria (23 875), Czechia (20 483), Denmark (15 855), Bulgaria (14 669), Norway (10 060), Finland (7 776), Luxembourg (7 499), Greece (7 472), Croatia (6 855), Hungary (4 970), Slovakia (2 922), Lithuania (2 474), Slovenia (2 456), Estonia (2 200), Iceland (2 027), Cyprus (1 359), Latvia (1 323), Malta (1 322) and Liechtenstein (97).
As of 19 August 2020, 179 963 deaths have been reported in the EU/EEA and the UK: United Kingdom (41 381), Italy (35 405), France (30 451), Spain (28 670), Belgium (9 959), Germany (9 243), Netherlands (6 166), Sweden (5 790), Romania (3 074), Poland (1 896), Portugal (1 784), Ireland (1 775), Austria (729), Denmark (621), Hungary (609), Bulgaria (519), Czechia (401), Finland (334), Norway (262), Greece (232), Croatia (166), Luxembourg (124), Slovenia (124), Lithuania (81), Estonia (63), Latvia (33), Slovakia (31), Cyprus (20), Iceland (10), Malta (9) and Liechtenstein (1).
WHO Director-General's opening remarks at the media briefing on COVID-19 – 18 August 2020
WHO is working with governments and the private sector to both accelerate the science, through the ACT-Accelerator, and ensure that new innovations are available to everyone, everywhere starting with those at highest risk? Since May, WHO has been in extensive consultations to develop a new framework to guide fair and equitable access to diagnostics, therapeutics and vaccines, for COVID-19 across all countries. These cross-cutting principles are key to the promotion of equitable access and fair allocation of these essential health products for the greatest impact globally. For example, once a successful vaccine has been identified WHO's strategic advisory group will provide recommendations for their appropriate and fair use. The allocation of vaccines is proposed to be rolled out in two phases. In phase 1, doses will be allocated proportionally to all participating countries simultaneously to reduce overall risk. In phase 2, consideration will be given to countries' in relation to threat and vulnerability.
Front line workers in health and social care settings are prioritised as they are essential to treat and protect the population and come in close contact with high-mortality risk groups. Initial data has shown that adults over 65 years old and those with certain comorbidities are at the highest risk of dying from COVID-19.
For most countries, a phase 1 allocation that builds up to 20 percent of the population would cover most of the at-risk groups. If we don't protect these highest risk people from the virus everywhere and at the same time, we can't stabilise health systems and rebuild the global economy. This is what the first crucial phase of the vaccine allocation mechanism aims to do. We are all so interconnected. As a small example, vaccine developed in one country may need to be filled in vials with stoppers that are produced in another, using materials for the high-grade glass that is only available from yet another country. We will need to quickly manufacture billions of doses to reach all those who need the vaccine, which means hundreds of millions of glass vials and ways to transport them effectively. All this means, elite planning at the highest levels is needed right now to prepare to vaccinate and treat the world as new technologies come down the pipeline.  As we accelerate the science, solidarity is needed to provide a joint solution to the pandemic. The COVAX Global Vaccines Facility is the critical mechanism for joint procurement and pooling risk across multiple vaccines, which is why today I sent a letter to every Member State encouraging them to join.
Cases up nationwide as staycation spots are hit by Covid
Irish Independent 20th August Public warned to limit who they meet with over next three weeks
Donegal and Kerry, which have welcomed a flock of home holidaymakers on domestic getaways, are now seeing a rise in cases of Covid-19.Some 54 cases of the virus were reported yesterday – following a toll of 190 the previous day – amid growing fears that the country is at risk of a sustained resurgence.
As new restrictions kicked in yesterday, a further two deaths from the virus were also reported.
Of the cases diagnosed yesterday, 19 were in Dublin, while Kildare – which is still in semi-lockdown – had eight new infections. There were five new cases of the virus in Tipperary and the rest were spread across Carlow, Clare, Donegal, Kerry, Kilkenny, Laois, Limerick, Longford, Louth, Meath, Offaly, Waterford and Wexford.
The majority of newly diagnosed cases were in those under 45 years of age. Some 27 cases were linked to outbreaks or close contacts of a confirmed case. There were eight new infections where the source could not be traced, and these remain a major worry. Acting chief medical officer Dr Ronan Glynn said that to "save lives and suppress this virus we need everyone to reduce the number of people they meet over the next three weeks". "A collective effort by households and by employers and organisations can make a huge impact on community transmission and help to protect our families and communities from Covid-19," he added." You can still play sport, go to a restaurant and meet friends, but we are asking you to do this in as safe a way as possible. "Specifically focus on two numbers: six and 15. Do not have more than six people over to your house and garden. And outside no more than 15 people should meet up – and even then, you should remain socially distanced from one another. "It emerged that eight workers have tested positive for Covid-19 at a meat factory in Kildare. A spokesperson for O'Brien Fine Foods in Timahoe said that following an initial outbreak at the plant it carried out further testing of employees. Of 177 tests conducted on day seven of the Covid-19 incubation period, eight workers had a positive result and 169 tested negatives. Operations were suspended on August 5 when there were 80 confirmed cases at the plant, and another six staff tested positive a few days later. "As with previous cases the level of asymptomatic infectivity appears to be very high," said the company in a statement. "Those who have tested positive have been advised to isolate as per the official guidance and full risk assessment and contract tracing procedures are underway. "All close contacts of those affected are being notified, advised to self-isolate and to contact their GP."It said it is in daily contact with the HSE and in consultation with it in planning the roll-out of a regular and comprehensive testing scheme. We firmly believe that to reduce risk and to best manage and control the spread of this virus, rigorous and regular testing procedures are required," said the statement. "We will be testing all employees routinely and continue to work with and be guided by the HSE in this."
Irish Medical Times Patient perspectives on the Covid-19 response
While frontline workers have recently been rightly recognised for their selfless contribution to their patients and society, most of them have always given this level of commitment to their patients.
It will not just be about what happened, but also how the health system prepared and responded to the unfolding pandemic. This much we owe to those who were affected and indeed future generations.
Going forward; the patient's voice needs to be heard (and their advocates to be respected) as an equal partner in the system. The system must demonstrate its' commitment to stakeholder engagement.
https://www.imt.ie/features-opinion/patient-perspectives-covid-19-response-13-08-2020/
HSE Start Campaign
With COVID-19, families are facing huge extra challenges this year.  Many have lost a sense of routine and are looking to get back on track, particularly bedtime. Poor sleep routines are associated with sedentary behaviour and research shows that a lack of sleep is associated with increased overweight and obesity, especially in younger children. Latest research for the START campaign confirmed that children went to bed and woke up later during the Covid-19 period. For those children, 49% were eating more unhealthy snacks or treats, 54% were less active and 67% were spending more times on screens.
According to Sarah O'Brien, HSE National Lead, Healthy Eating and Active Living Programme, "Every year, getting back into a regular bedtime routine with children is something all families have to tackle after summer holidays. This year will be even harder and we know it's not easy and takes time and effort to get it right. To help families, the START campaign has advice and support available at www.makeastart.ieWhen it comes to developing a good bedtime routine, Dr Colman Noctor, Child and Adolescent Psychoanalytical Psychotherapist with St Patricks Mental Health Service, offers the following advice:
Consistent bedtimes are at the heart of the routine to provide regularity and predictability that over time will help a child to self-regulate.
Reduce screen time and sugary foods and drinks in the hours leading up to bedtime.
Encourage physical activity and fruit and vegetables during the day.
Encourage relaxation skills and wind down activities.
To help families, the START campaign has advice and support available at www.makeastart.ie
Reproduction Number Update
The number of people in intensive care remains low, Prof Nolan said. He told the briefing that they are currently conducting around 4,500 tests per day with the positivity rate rising from 0.5% to 1.7%.Prof Nolan said their "best estimate" of the current reproduction number was 1.6, down from 1.8 last week
Update from Professor Paul Nolan NPHET
Prof Nolan said while the 14-day cumulative incidence rate remains very high in Kildare, Laois and Offaly, a number of other counties are experiencing smaller outbreaks such as Clare, Limerick, Donegal, Wexford and Carlow. Of the cases they are looking at, 45% of all clusters are either in workplaces or outbreaks in households or extended families. He said 70% of the cases over the past 14 days were in those large clusters. Because of that and the fact that the test and trace mechanism is so effective, the vast majority of those cases are traceable as they are close contacts of another case. Prof Nolan said there was very little in terms of travel-rated cases and they were seeing fewer than ten cases per day as confirmed community transmission. The current rate of 40 cases a day might seem low, he said, but it "remains two to three times higher than what NPHET was seeing on a typical day in late June or early July".
 https://www.rte.ie/news/coronavirus/2020/0812/1158816-covid-figures/
ECDC Incidence of confirmed cases here now lower than UK
The latest 14-day incidence of confirmed cases of Covid-19 published by the European Centre for Disease Control (ECDC) has Ireland on 17.8 cases for every 100,000 people here .It means Ireland is now behind the UK, which has an incidence rate of 18.3. The figures are based on the latest total of confirmed cases in Ireland of 26,801.Ireland is ahead of Germany, which is at 14 cases per 100,000 people. Austria has the same incidence rate as Ireland. Greece is on 15.5, while Italy is at 7.9.Within the EU/EEA and UK, the country with the highest incidence level is Luxembourg at 141 cases per 100,000 people. Spain is on 93.7 while Malta is at 61.6.In Northern Ireland, 29 additional cases of Covid-19 were confirmed today. There were no new deaths. There have been a total of 6,217 cases of coronavirus there and 557 people have died. 204 people have tested positive in the last seven days.
https://www.rte.ie/news/coronavirus/2020/0812/1158816-covid-figures/
Covid -19 Data Hub
https://covid19ireland-geohive.hub.arcgis.com/pages/hospitals-icu–testing
WHO
You may catch COVID-19 and be at risk of becoming severely ill, if you've a noncommunicable disease/a pre-existing condition such as:
Cardiovascular disease
Chronic respiratory disease
Diabetes
Cancer
Here are tips for people affected by these conditions to stay safe:
Take your medicine & follow medical advice
Secure 1 month+ supply of medication
Keep distance from sick people
Wash often
or quit drinking
Protect mental health
COVID-19: WHO warns against despair as global cases crosses 20 million.
The coronavirus pandemic chalked up another horrific milestone Monday as the world surpassed 20 million recorded cases of infection from the tiny killer that has upended life just about everywhere. The number as of 2215 GMT was 20,002,577 cases, with 733,842 deaths recorded, according to an AFP tally of official sources. In yet another staggering landmark, the death toll is expected to surpass 750,000 in a matter of days as the global health crisis that began late last year in China rages on. As more things once unthinkable became harsh reality — having to wear a facemask in touristy spots in Paris, or reserve a spot on Copacabana beach in Rio via an app and then social distance on the sand — the World Health Organization urged people not to despair." Behind these statistics is a great deal of pain and suffering… But I want to be clear: there are green shoots of hope," WHO chief Tedros Adhanom Ghebreyesus said." It's never too late to turn the outbreak around," he said. He gave examples of countries that had successfully clamped down on COVID-19, such as Rwanda and New Zealand, which said Monday it plans to open a virus-free "travel bubble" with the Cook Islands
Lunchboxes more likely to transmit Covid-19 than uniforms, says virologist
Assistant Professor of Virology at Trinity College Dublin Kim Roberts has said hard surfaces, such as lunchboxes, are more likely to transmit Covid-19 than school uniforms.
She said lunchboxes should be washed daily. Prof Roberts told RTÉ's Today with Sarah McInerney that there is not enough solid evidence about fabrics retaining the virus but when they are washed at 60C the detergent will adequately kill any virus present. She said if parents cannot manage to wash school uniforms every day, they should not worry that they are putting their child or others at increased risk. She said the virus survives longer on hard surfaces like pencils, pens, lunchboxes and drink bottles so these items will need to be labelled and washed daily. Prof Roberts said people should expect some outbreaks of the virus in schools when they reopen, but transmission rates should be low overall
Acting CMO regarding Schools re-opening
Dr Ronan Glynn, Acting Chief Medical Officer, told a press briefing: "It is virtually inevitable there will be clusters when schools reopen – there is no zero risk, so it is likely, unfortunately." But we have to balance the risk of infection versus their needs as children to educational attainment." Asked if schools will have to shut once a Covid-19 case has been diagnosed, Dr Glynn said the HSE will do a risk assessment and contact tracing. "There will not be a blanket approach. It may need to happen that a school closes, but the hope would be that in the main, it would only be children in close contacts with a case who might have to restrict their movements," he said. Asked about some schools reportedly telling parents that uniforms need to be washed every day to help curb the spread of Covid-19, Dr Glynn said he was not aware of this being part of public health advice but would investigate the claim further.
Reproduction Number Update
The R number which indicates the rate of transmission has climbed from a low of between 0.4 and 0.7 to almost 2.0, which NPHET's Professor Philip Nolan described as being of "serious concern".
Covid -19 Data Hub
There are currently 5 cases in ICU and no further admissions to  ICU .
https://covid19ireland-geohive.hub.arcgis.com/pages/hospitals-icu–testing
ECDC COVID-19 in children and the role of school settings in COVID-19 transmission
The aim of this document is to provide an overview of the epidemiology and disease characteristics of COVID-19 in children (0-18 years) in EU/EEA countries and the United Kingdom (UK), and an assessment of the role of childcare (preschools; ages 0-<5 years) and educational (primary and secondary schools; ages 5-18 years) settings in COVID-19 transmission.
A small proportion (<5%) of overall COVID-19 cases reported in the EU/EEA and the UK are among children (those aged 18 years and under). When diagnosed with COVID-19, children are much less likely to be hospitalised or have fatal outcomes than adults.
Children are more likely to have a mild or asymptomatic infection, meaning that the infection may go undetected or undiagnosed.
When symptomatic, children shed virus in similar quantities to adults and can infect others in a similar way to adults. It is unknown how infectious asymptomatic children are.
While very few significant outbreaks of COVID-19 in schools have been documented, they do occur, and may be difficult to detect due to the relative lack of symptoms in children.
In general, the majority of countries report slightly lower seroprevalence in children than in adult groups, however these differences are small and uncertain. More specialised studies need to be performed with the focus on children to better understand infection and antibody dynamics.
Investigations of cases identified in school settings suggest that child to child transmission in schools is uncommon and not the primary cause of SARS-CoV-2 infection in children whose onset of infection coincides with the period during which they are attending school, particularly in preschools and primary schools.
If appropriate physical distancing and hygiene measures are applied, schools are unlikely to be more effective propagating environments than other occupational or leisure settings with similar densities of people.
There is conflicting published evidence on the impact of school closure/re-opening on community transmission levels, although the evidence from contact tracing in schools, and observational data from a number of EU countries suggest that re-opening schools has not been associated with significant increases in community transmission.
Available evidence also indicates that closures of childcare and educational institutions are unlikely to be an effective single control measure for community transmission of COVID-19 and such closures would be unlikely to provide significant additional protection of children's health, since most develop a very mild form of COVID-19, if any.
Decisions on control measures in schools and school closures/openings should be consistent with decisions on other physical distancing and public health response measures within the community.
United Nations (UNECE) Policy :The Essentials of Safe Independent Living (For Seniors)
A new policy brief launched today by the Secretary-General highlights the particular risks COVID-19 presents to older persons. As has been widely reported, the fatality rate for older people is higher than for younger age groups and reaches five times the global average for those aged 80 and over. Beyond the threat to life, the pandemic is putting older people at greater risk of poverty, discrimination and isolation.
Policy brief :Click Here:
Cancer Research UK Safety Netting Patients during the Covd-19 recovery Phase
These unprecedented times have prompted rapid changes to pathways and shifts in patient and health professional behaviour, as well as creating a significant patient backlog. This has the potential to impact patients and undermine our efforts to see fewer people diagnosed with late stage cancer. During the recovery phase, robust safety netting protocols are important for mitigating the impact of COVID-19 on patients. This quick reference guide summarises our recommendations on safety netting in a range of scenarios during the COVID-19 recovery phase. We know that this is an especially worrying time so we have created a key messages document for Health Professionals focussed on safety netting patients presenting with symptoms during the coronavirus outbreak. We have also created a page on the subject specifically for patients on our about cancer hub. We will update that information as guidance changes. Click Here:
Overcoming Fears to Save Lives: #COVID19 and the Threat to Bystander CPR in Out of Hospital Cardiac Arrest
https://www.ahajournals.org/doi/pdf/10.1161/CIRCULATIONAHA.120.048909
Covid-19 Data Hub
| | |
| --- | --- |
| New Covid-19 cases | 85 |
| Median age | 48 |
| ICU admissions | 4 |
| Hospital admissions | 6 |
  https://covid19ireland-geohive.hub.arcgis.com/
All-Ireland workshop 'Visioning for the Future' – rapid learning and improvement during COVID-19
HSE staff are invited to participate in an All-Ireland virtual workshop 'Visioning for the Future', which will take on  Wednesday 26 August from 12.30pm to 2pm.Through a mix of presentations and interactive, collaborative group sessions, the workshop will provide you with ideas and inspiration for how to make sense of the learning generated through the COVID-19 pandemic, and how to use this to enable good decision-making now and in the future. This opportunity is open to anyone who would like to connect with others to explore and take a Quality Improvement (QI) lens to key challenges at this time.  This event is free for participants with an interest in Quality Improvement. This workshop will be delivered by the Q Community from the UK Health Foundation in partnership with the HSE National Quality Improvement Team and Health and Social Care QI Northern Ireland team. Click Here:
NICE COVID-19 rapid guideline: arranging planned care in hospitals and diagnostic services
The purpose of this guideline is to help healthcare professionals deliver efficient planned care while minimising the risk  of COVID-19 in the context of increasing or decreasing local prevalence. It also aims to help patients make decisions about their planned care. It is for adults, young people and children in hospitals and diagnostic settings. Planned care covers elective surgery (day surgery and inpatient stays), interventional procedures, diagnostics and imaging. It does not include services where people have ongoing outpatient and day-case procedures such as chemotherapy, radiotherapy and dialysis. This guideline is for:
health and care practitioners
health and care staff involved in planning and delivering service commissioners
We developed this guideline using the interim process and methods for guidelines developed in response to health and social care emergencies. We will review and update the recommendations as the knowledge base develops.
One Page Visual Summarised version of this NICE guideline: https://www.nice.org.uk/guidance/ng179/resources/visual-summary-pdf-8782806637
Full NICE  Guidance COVID-19 rapid guideline: arranging planned care in hospitals and diagnostic services :Published: 27 July 2020
Rapid Risk Assessment: Resurgence of reported cases of COVID 19 in the EU/EEA, the UK and EU candidate and potential candidate countries
The COVID-19 pandemic is posing an unprecedented threat to EU/EEA countries and the UK as well as countries worldwide, many of which have been experiencing widespread transmission of the virus in the community for several months. There is still community transmission reported in most EU/EEA countries, the UK and EU candidate and potential candidate countries. Additionally, some countries are reporting a resurgence of observed cases or large localised outbreaks. The reasons behind this apparent increase in the number or resurgence of cases observed in these countries vary. The increase in the number of cases may reflect changes in case ascertainment (e.g. increasing testing, changes in the case definition) that does not necessarily indicate increased rates of transmission, or may reflect genuine increases in transmission (e.g. associated with the easing of non-pharmaceutical interventions (NPI), large localised outbreaks), or may be due to importation of cases. Some of the observed increases, particularly in countries with a small population, are associated with just a few additional new cases. Therefore, information must be interpreted with caution
Full article: Click Here:
 The Lancet
Covid -19 and China Lessons and the way forward
China has largely controlled COVID-19. A country of 1·4 billion people and a size similar to Europe or the USA now reports only clusters of cases rather than widespread community transmission. China has been widely criticised for its role and responsibilities during the pandemic because of censorship, transparency, and human rights concerns. But the rest of the world can still learn from China's successes in bringing its outbreak under control Click Here:
Association of Occupation Therapy
Rehabilitation  for people recovering from Covid-19
The number of patients  discharged from hospitals following covid requiring access to rehabilitation services is growing rapidly . This is a quick guide for occupational therapist and health care professionals on post covid patient care.
quick guide for people recovering from covid
Leeds Teaching Hospital Resource Covid-19 Rehabilitation Booklet Leeds teaching hospital developed a rehabilitation booklet . This is a short extract from the booklet .
Covid-19 Rehabilitation Booklet: quick guide for people recovering from covid
Radiology
Special Report of the RSNA COVID-19 Task Force: The Short- and Long-Term Financial Impact of the COVID-19 Pandemic on Private Radiology Practice
The coronavirus disease 2019 (COVID-19) pandemic resulted in widespread disruption to the global economy, including demand for imaging services. The resulting reduction in demand for imaging services had an abrupt and substantial impact on private radiology practices, which are heavily dependent on examination volumes for practice revenues. The goal of this article is to describe the specific experiences of radiologists working in various types of private radiology practices during the initial peak of the COVID-19 pandemic Click Here:
European Medicines Agency EMA
EMA is liaising closely with developers of potential COVID-19 medicines. EMA has been in discussion with the   developers of 36 potential COVID-19 vaccines and 148 potential COVID-19 treatments*. These include immunomodulators, antivirals and hyperimmune serums.
EMA has also finalised 9 scientific advice procedures* to provide developers with direction on the most appropriate methods and study designs for potential COVID-19 medicines. A further 13 such procedures* are ongoing.
Treatments
EMA welcomes the launch of large clinical trials to test promising treatments and generate conclusive evidence on which of them work, in line with the advice of its human medicines committee (CHMP).
Vaccine development timelines are difficult to predict. Based on past experience, EMA estimates that it might take at least until the beginning of 2021 before a vaccine against COVID-19 is ready for approval and available in sufficient quantities to enable widespread use.
Potential COVID-19 treatments currently undergoing clinical trials include:
lopinavir/ritonavir (currently authorised as an anti-HIV medicine);
chloroquine and hydroxychloroquine (currently authorised at national level as treatments against malaria and certain autoimmune diseases such as rheumatoid arthritis).
systemic interferons, in particular interferon beta (currently authorised to treat diseases such as multiple sclerosis).
monoclonal antibodies with activity against components of the immune system.
Vaccine development timelines are difficult to predict. Based on past experience, EMA estimates that it might take at least until the beginning of 2021 before a vaccine against COVID-19 is ready for approval and available in sufficient quantities to enable widespread use.
Reproduction number Update Minister for Health Stephen Donnelly
IRELAND'S R NUMBER has fallen to between 0.7 and 1.4 with the "best estimate" standing at 1.1, Health Minister Stephen Donnelly has said. Donnelly also said public health officials are saying "we are going to have a second surge" of Covid-19 based on evidence from around the world. It was reported last week that the country's R number had risen from below 1 to between 1.2 and 1.8. Donnelly today described that as a "serious concern to public health and to the wider community". The R number is the rate at which the disease spreads from an infected person to other people – so if the R-number is at 1, an infected person will spread it to an average of one other person. The minister said the "best estimate" for the current R number in Ireland is 1.1 based on figures presented to him earlier today
Dail Eireann Statement from the Minister of Health Stephen  Donnelly
HSE Staff Webinar COVID-19 Q&A Session with CEO Paul Reid, Chief Operations Officer (COO) Anne O'Connor and Chief Clinical Officer (CCO) Colm Henry
Discussions included the balancing of services if what needed to be stopped and what needed to keep going The HSE have been reviewing all the work streams in the case of a second wave , to be prepared and equipped. The HSE will retain the Covid response teams in the communities to support the nursing teams Community testing will continue . Working in an integrated work between national and local systems to empower them . One of the big areas of focus is care  of the elderly to keep them at home and avoid long term care homes . The team emphasised again that all health care staff should avail of the flu vaccination. Framework launched in June for the restoration of services . Activities will be slower to ensure infection prevention guidelines are compiled too.   A roadmap to service restoration was launched today 22nd July . The Cervical backlog will be cleared by October . Cancer services lancet pathways to cancer. Early access to cancer services through screening There was a fall off to rapid access clinics by 50 % .Earlier diagnosis enhances better treatment outcomes .
How can we support exhausted staff who have worked relentlessly since Jan ? Encourage staff to take their annual leave now . Local systems are facilitating flexible working arrangements . Continuing to recruit extra staff . Now an additional 3,5500 staff on the payroll . Staff need to be resilient and prepared for the winter . Click Here:
Recovery from Covid-19
It's common to have health symptoms or side effects after having coronavirus (COVID-19).Some people have physical problems such as extreme tiredness (fatigue) or muscle pain. Others can experience mood changes or nightmares. Some people have no symptoms or side effects at all. Symptoms or side effects can depend on how mild or severe your illness from coronavirus was. It can also depend on if you were in hospital or not. Getting back to normal after coronavirus can take some people a few months. But things usually improve over time.
Physical problems after coronavirus
Physical problems you might experience while recovering from coronavirus include:
muscle weakness and joint stiffness
extreme tiredness (fatigue) and a lack of energy
reduced mobility
breathlessness – read a guide on managing breathlessness
phlegm build-up – read how to clear phlegm from your lungs
weaker physical fitness
loss of appetite and weight loss
lack of sense of smell or taste
stomach problems – this includes heartburn, diarrhoea and vomiting
difficulties swallowing – read advice on how to manage this
Mental and emotional problems after coronavirus
Mental and emotional problems you might experience while recovering from coronavirus include:
sleep problems – this can often develop after being in hospital, where it can be difficult to sleep
problems with mental abilities – for example, not being able to remember some events, think clearly and being forgetful
changes in your mood, or depression or anxiety
nightmares or flashbacks
post-traumatic stress disorder (PTSD)
confusion or delirium
Read advice on minding your mental health during the coronavirus pandemic
When to get medical help
Phone your GP or hospital team if you find it difficult to cope with your symptoms. They will give you the support you need and direct you to services. Many mental health services and organisations provide free online and phone services.
This includes:
Read more about mental health supports and services available during coronavirus
Recovery time
Suffering a severe illness and spending time in hospital can be extremely stressful. Some people recover from coronavirus quickly and do not need much support. Other people will need more time and help. Your recovery time could depend on the level of treatment you got in hospital. It can take months to fully recover. Everyone is different. It's important not to compare yourself to others. Having good and bad days during your recovery is normal. It's OK to feel this way. Things that might help you to feel a bit better in your recovery include:
talk to family, friends or your GP
do things you enjoy
rest and relax – meditation or mindfulness may help
be kind to yourself
https://www2.hse.ie/conditions/coronavirus/recovering-after-coronavirus.html
 Free Printable Covid-19 Poster
 As we battle the spread of COVID-19 and understand more and more how transmission can occur from person-to-person, workspaces can quickly become outbreak sites unless the correct measures are taken. Signs are the best way to create and maintain awareness.
You can download and print all signs like the one below  for free and use them as you need. If you share these images online then please link to our site.
Stay Healthy, Wash Your Hands
https://www.websiteplanet.com/blog/free-printable-posters-covid-19/
WHO Poster
 New Ways of Working in the care of Older People during Covid-19
This work is under review the learnings should be relevant for future health system planning'
TCD Research: Autism and Related Neurodevelopmental Disorders
COVID-19 is impacting mental health and behaviour in autistic and typically developing children. This is a global problem. Help @AutismTCD understand the problem and highlight what supports need to be in place. We need 1000 responses to represent the situation clearly and accurately.' Please complete our 20 min survey at this link
https://nursingandmidwifery.fra1.qualtrics.com/jfe/form/SV_eOO5Pm8al4yQYE5?fbclid=IwAR0BQ7z-pW1EumNB8blCsuo3lahCWjGppypp8j8kX1HyVwrvc8QIUpchYTo
 HSE Guidance Non-Essential Travel
 National Director of HR
"All employees who intend to undertake non-essential travel overseas must make provision by way of an annual leave or unpaid leave application for the additional period of restricted movement, in line with their employer's normal rules and procedures for applying for annual leave or unpaid leave1.  Employees will not be permitted to work from home in lieu of taking annual leave or unpaid leave during the 14-day period of restricted movement. Employees must advise their manager of their intention to travel abroad and submit their leave application to cover the additional period of 14 days' absence from work due to the requirement to restrict their movements upon return to Ireland.  The leave application required to cover the additional period of restricted movement must be approved by the manager prior to commencement of annual leave/travel abroad and a record retained.  Employees are required to give as much notice as possible of their intention to travel abroad so that the necessary arrangements (e.g. substitution cover) can be made to cover the employee's additional period of absence having regard to service requirements. The requirement that health service employees inform their manager of plans to travel abroad and adhere to the requirement to restrict their movements for 14 days upon return to Ireland is necessary for the protection of public health and for service planning.  This guidance will be reviewed in accordance with any changes to public health and travel advice"
In line with the Government's Return to Work Safely Protocol, we are issuing our OSH Newsletter to support you in the resumption of services safely.
In this issue you will find:
Information on the COVID-19 Induction training
Information on the Return to Work Safely process
Sample risk assessment to include requirements for COVID-19
New safety training available on hseland
Irish Medical times
Free Covid-19 Asthma Health Packs made available :
The packs contain information and support to help asthmatics stay safe during this Covid-19 pandemic
The Asthma Society of Ireland has partnered with Care Plus Pharmacy to supply free Covid-19 health packs to people with asthma in Ireland.
This Covid-19 Health Pack initiative is only the first step in a new partnership between Care Plus and the Asthma Society. People with asthma and their families and friends can pick up Covid-19 Asthma Health Packs for free from the 64 Care Plus pharmacies nationwide. The packs contain information and support to help people stay safe during this Covid-19 pandemic. The resources within these packs were put together with the assistance of members of the Asthma Society's Medical Advisory Group. They draw on expertise from the Health Service Executive (HSE) and the National Respiratory Clinical Programme, including some of the top respiratory healthcare professionals in the country. These packs consist of patient education materials on asthma or chronic obstructive pulmonary disease and Covid-19, as well as information on general asthma management, dealing with an asthma attack by the 5 Step Rule, gardening with asthma and hay fever, and details of key services offered by the Asthma Society during this pandemic. Care Plus pharmacists will be on hand to help asthma patients with advice on asthma management and to address their concerns. The packs contain information and support to help asthmatics stay safe during this Covid-19 pandemic. The Asthma Society of Ireland has partnered with Care Plus Pharmacy to supply free Covid-19 health packs to people with asthma in Ireland. This Covid-19 Health Pack initiative is only the first step in a new partnership between Care Plus and the Asthma Society. People with asthma and their families and friends can pick up Covid-19 Asthma Health Packs for free from the 64 Care Plus pharmacies nationwide. The packs contain information and support to help people stay safe during this Covid-19 pandemic. The resources within these packs were put together with the assistance of members of the Asthma Society's Medical Advisory Group. They draw on expertise from the Health Service Executive (HSE) and the National Respiratory Clinical Programme, including some of the top respiratory healthcare professionals in the country. These packs consist of patient education materials on asthma or chronic obstructive pulmonary disease and Covid-19, as well as information on general asthma management, dealing with an asthma attack by the 5 Step Rule, gardening with asthma and hay fever, and details of key services offered by the Asthma Society during this pandemic. Care Plus pharmacists will be on hand to help asthma patients with advice on asthma management and to address their concerns.
COVID-19 Return to Work Safely webinar
The National Health and Safety Function (NHSF), working in collaboration with HSE Estates, have developed a second module in its COVID-19 Return to Work Safely webinar series. The pre-recorded webinar has been developed to provide managers with information on the HSE's approach to implementing the Government's Return to Work Safely Protocol in all HSE workplaces.
Returning to Work Safely Webinar – Module 2 is mandatory for all HSE Line Managers and those who are responsible for, or support the implementation of, health and safety locally.
Presented by Nick Parkinson, Head of National Health and Safety Function and Deirdre Groarke, Estates Manager – Safety and Infrastructural Risk, the webinar covers the following topics:
Employer and Employee Responsibilities related to COVID-19
How the Return to Work Safely (RWS) Protocol applies to the HSE
COVID-19 Induction Programme
Key actions required to ensure a safe return to the workplace
Guidance, templates, and forms to aid the safe return to work
Further supports available
The module will take approximately 40 minutes to complete and a certificate is issued upon completion.
To access and complete this eLearning module, search for Returning to Work Safely Webinar – Module 2 or access the webinar resource in the HSE National Health and Safety Function Learning Catalogue. Click Here:
Covid-19 Tracker App
Stay safe. Protect each other.
COVID Tracker is a free app for your mobile phone. It will help us to protect each other and slow the spread of coronavirus (COVID-19) in Ireland.
Using the COVID Tracker app along with the existing public health measures will help us all stay safe when we meet up, socialise, work or travel.
The app can:
alert you if you have been in close contact with someone who has tested positive for COVID-19
advise you on what to do to protect yourself and others
alert other app users that you were in close contact with, if you test positive for COVID-19
Follow the link below to get the app.
 Covid-19 Data hub Confirmed Cases Acute Hospitals
WHO Director-General's opening remarks at the media briefing on COVID-19 – 7 July 2020
It took 12 weeks for the world to reach 400 thousand cases of COVID-19. Over the weekend, there were more than 400 thousand cases across the globe. There have now been 11.4 million cases of COVID-19 and more than 535,000 lives have been lost. The outbreak is accelerating, and we have clearly not reached the peak of the pandemic. While the number of deaths appears to have levelled off globally, in reality some countries have made significant progress in reducing the number of deaths, while in other countries deaths are still on the rise. Where there has been progress in reducing deaths, countries have implemented targeted actions toward the most vulnerable groups, for example those people living in long-term care facilities. Over the past few months, there has been a lot of discussion about the origins of COVID-19. All preparations have been finalised and WHO experts will be traveling to China this weekend to prepare scientific plans with their Chinese counterparts for identifying the zoonotic source of the disease.  The experts will develop the scope and terms of reference for a WHO-led international mission. The mission objective is to advance the understanding of animal hosts for COVID-19 and ascertain how the disease jumped between animals and humans. WHO will continue to communicate the latest scientific advances to the media and general public as we have them. In this vein, WHO continues to work with technology companies to make sure people have access to accurate health information and resources on COVID-19. Click Here:
Resources to Support Adults Living with Long-term Health Conditions during Coronavirus
People living with a long-term health condition may be more at risk of serious illness if they get coronavirus and need to take extra care to protect themselves. A number of resources have been developed by the HSE Health & Wellbeing Self-management support Co-ordinators to support people living with long-term health conditions. Click Here:
A Directory of Resources and Supports for Adults with Asthma, COPD, Diabetes, Heart Conditions and Stroke during Coronavirus. This directory signposts people living with these conditions, or caring for someone with one, to reliable information and services.  It provides information on how to access these supports.
Video clips which deliver key self-management messages have been developed. Further videos are in production. Follow HSE Health & Wellbeing on Twitter @HsehealthW and please retweet. #selfmanagementsupport
Minding Your Long- term Health Condition during Coronavirus information leaflet
Provides practical and clear information to support people to manage their long-term health condition and to stay healthy.
In addition, in partnership with Pavee Point through the Eastern Region Traveller Health Unit, the coronavirus information leaflet was adapted for travellers with long-term health conditions.
 Poster 1 Minding your long-term health: Click Here:
Return to Work safety Webinar
As part of the government Return to Work Safely Protocol, all employees must receive induction training on returning to the workplace safely and the measures which must be taken to prevent the spread of COVID-19. The National Health and Safety Function have developed this short induction webinar to support your local induction process.
This webinar provides information on roles and responsibilities set out in the protocol and adopted in the HSE, public health advice on preventing the spread of COVID-19 including signs and symptoms and routes of transmission, aspects of the workplace and our work activities which may be affected, the requirement for a plan to manage suspected cases of COVID-19 in the workplace and additional resources available to support your safe return and mental health and wellbeing.
To access and complete this eLearning training programme, search for COVID-19 Return to Work Safely Induction Webinar or access the webinar resource in the HSE National Health and Safety Function Learning Catalogue.
Reproduction number increase
Professor Philip Nolan , NPHET has stated the Reproduction umber has now increase to almost 1 .
Covid -19 Incidence
The incidence over the past 14 days in Ireland is 2.9 cases per 100,000. Many of the countries  that Irish holiday makers travel have much higher incidence than here  .Spain is  currently at 9.9 , Portugal is  47.9 Italy is 5,2 France 10.3 and UK 22.7 .WHO has warned that in the past week, over 160,000 cases have been reported each day..
Irish Times 3rd July
Phased resumption of health services
HSE COO, Anne O'Connor updates staff on the phased resumption of health services during COVID-19Anne gives details on the careful planning which is currently happening across services to ensure the safety of our staff and patients. The Return to Work Safely (RWS) Protocol is being published as part of this work and provides useful guidance for managers and staff. Click Here:
Young people testing positive cause Dr Holohan fresh concerns
Covid-19 is an infection that affects all ages and it is incumbent on all of us to take our individual responsibility seriously." People aged under 35 years old made up 43pc of the 23 new cases confirmed by the HPSC last night. People aged between 35 and 54 accounted for another eight cases — more than a third of the total cases. "I cannot emphasise enough how important it is to remain informed, keep a two-metre distance from others, and follow the public health advice on hand washing, cough and sneeze hygiene, and on wearing face coverings," Dr Holohan said.
Irish Independent
Figures from the Health Protection Surveillance Centre (HSPC) show an 87pc increase in the number of clusters in private dwellings in the last week.
There were 390 outbreaks attributed to private households on June 21, compared with 728 cases a week later on June 28.
A cluster is defined as two or more people being infected with the disease in one place.
Dr Jack Lambert, a specialist in infectious diseases at the Mater Misericordiae University Hospital in Dublin, said the public needs to "get back to basics" when it comes to preventing infection.
"There is a lot of talk about bringing Covid in from other countries but there is still Covid in Ireland," he added.
"But there are still infections among people who haven't travelled and that continues to be a risk."
Dr Lambert said that as soon as people let down their guard, infections will flare up again
Irish Independent
The Health Information and Quality Authority (HIQA) Evidence summary of the immune response following infection with SARSCoV-2 or other human coronaviruses
The Health Information and Quality Authority (HIQA) has developed a series of 'Evidence Summaries' to assist the Clinical Expert Advisory Group (EAG) in supporting the National Public Health Emergency Team (NPHET) in their response to COVID-19. These summaries are based on specific research questions. This evidence summary was developed to address the following research question:
What is the rate of reinfection/duration of immunity in individuals who recover from a laboratory-confirmed coronavirus infection?
Link to HIQA Evidence Summary Click Here:
 European Centre for Disease Prevention and Control
Immune responses and immunity to SARS-CoV-2
The detection of antibodies to SARS-CoV-2 does not indicate directly protective immunity and correlates of protection for COVID-19 have not yet been established.
Most persons infected with SARS-CoV-2 display an antibody response between day 10 and day 21 after infection. Detection in mild cases can take longer time (four weeks or more) and in a small number of cases antibodies (i.e., IgM, IgG) are not detected at all (at least during the studies' time scale). Based on the currently available data, the IgM and IgG antibodies to SARS-CoV-2 develop between 6–15 days post disease onset [239-244]. The median seroconversion time for total antibodies, IgM and then IgG were day-11, day-12, and day-14 post symptom onset, respectively. The presence of antibodies was detected in <40% among patients within 1 week from onset, and rapidly increased to 100% (total antibodies), 94.3% (IgM) and 79.8% (IgG) from day-15 after onset [245].
The longevity of the antibody response is still unknown, but it is known that antibodies to other coronaviruses wane over time (range: 12 – 52 weeks from the onset of symptoms) and homologous re-infections have been shown [246]. SARS-CoV-2 IgM and IgG antibody levels may remain over the course of seven weeks [247] or at least in 80% of the cases until day 49 Click Here:
 Centers for Disease Control and Prevention CDC
Development of Antibodies and Immunity
Nearly all immune competent individuals will develop an immune response following SARS-CoV-2 infection. Like infections with other pathogens, SARS-CoV-2 infection elicits development of IgM and IgG antibodies, which are the most useful for assessing antibody response because little is known about IgA response in the blood. Antibodies in some persons can be detected within the first week of illness onset. SARS-CoV-2 infections are somewhat unusual because IgM and IgG antibodies arise nearly simultaneously in serum within 2 to 3 weeks after illness onset. Thus, detection of IgM without IgG is uncommon. How long IgM and IgG antibodies remain detectable following infection is not known. In addition, development of neutralizing antibodies can also be assessed. Neutralizing antibodies inhibit viral replication in vitro, and as with many infectious diseases, their presence correlates with immunity to future infection, at least temporarily. Recurrence of COVID-19 illness appears to be very uncommon, suggesting that the presence of antibodies could confer at least short-term immunity to infection with SARS-CoV-2. Click Here:
New England Journal of Medicine
False Negative Tests for SARS-CoV-2 Infection —  Challenges and Implications
While debate has focused on the accuracy of antibody tests, which identify prior infection, diagnostic testing, which identifies current infection, has received less attention. But inaccurate diagnostic tests undermine efforts at containment of the pandemic. Diagnostic tests (typically involving a nasopharyngeal swab) can be inaccurate in two ways. A false positive result erroneously labels a person infected, with consequences including unnecessary quarantine and contact tracing. False negative results are more consequential, because infected persons — who might be asymptomatic — may not be isolated and can infect others. Given the need to know how well diagnostic tests rule out infection, it's important to review assessment of test accuracy by the Food and Drug Administration (FDA) and clinical researchers, as well as interpretation of test results in a pandemic. The FDA has granted Emergency Use Authorizations (EUAs) to commercial test manufacturers and issued guidance on test validation.1 The agency requires measurement of analytic and clinical test performance. Analytic sensitivity indicates the likelihood that the test will be positive for material containing any virus strains and the minimum concentration the test can detect. Analytic specificity indicates the likelihood that the test will be
negative for material containing pathogens other than the target virus. Clinical evaluations, assessing performance of a test on patient specimens, vary among manufacturers. The FDA prefers the use of "natural clinical specimens" but has permitted the use of "contrived specimens" produced by adding viral RNA or inactivated virus to leftover clinical material. Ordinarily, test-performance studies entail having patients undergo an index test and a "reference standard" test determining their true state. Clinical sensitivity is the proportion of positive index tests in patients who in fact have the disease in question. Sensitivity, and its measurement, may vary with the clinical setting.Click Here:
Physical distancing, face masks, and eye protection to prevent person-to-person transmission of SARS-CoV-2 and COVID-19: a systematic review and meta-analysis
Derek K Chu, Elie A Akl, Stephanie Duda, Karla Solo, Sally Yaacoub, Holger J Schünemann
Lancet 2020 June 1
BACKGROUND: Severe acute respiratory syndrome coronavirus 2 (SARS-CoV-2) causes COVID-19 and is spread person-to-person through close contact. We aimed to investigate the effects of physical distance, face masks, and eye protection on virus transmission in healthcare and non-healthcare (eg, community) settings Click Here:
Nature medicine
Age-dependent effects in the transmission and control of COVID-19 epidemics
The COVID-19 pandemic has shown a markedly low proportion of cases among children1-4 . Age disparities in observed cases could be explained by children having lower susceptibility to infection, lower propensity to show clinical symptoms or both. We evaluate these possibilities by fitting an age-structured mathematical model to epidemic data from China, Italy, Japan, Singapore, Canada, and South Korea. We estimate that susceptibility to infection in individuals under 20 years of age is approximately half that of adults aged over 20 years, and that clinical symptoms manifest in 21% (95% credible interval: 12-31%) of infections in 10- to 19-year-olds, rising to 69% (57-82%) of infections in people aged over 70 years. Click Here:
Vaccines and treatment of COVID-19
There is a large global effort to develop vaccines for protection against COVID-19 and at least ten vaccine candidates have, as of early June 2020 entered clinical trials, including phase II trials [263]. Safety and immunogenicity data have been reported in the scientific literature for the first-in-human trial assessing a vector-based SARS-CoV-2 vaccine candidate conducted in China and merit further studies [264]. The European Medicines Agency (EMA) has been in discussion with developers of 33 potential SARS-CoV-2 vaccines since May 26, 2020. However, the EMA expects that it may take at least one year before a vaccine is approved and available for widespread use in the EU/EEA [265]. The opportunities and challenges of developing vaccines against COVID-19 are discussed widely [266,267] and important lessons from SARS-CoV-1 vaccine development may guide SARS-CoV-2 vaccine design, testing, and implementation [268].
https://www.ecdc.europa.eu/en/covid-19/latest-evidence/vaccines-and-treatment
Ireland joins WHO trial comparing unproven Covid-19 treatment options
Ireland to start recruiting immediately patients at hospitals countrywide for the WHO Solidarity Trial. An agreement on behalf of the Government to enable Ireland's participation in the World Health Organization (WHO) Covid-19 Solidarity Trial has been signed, with Government funding of €2.4 million approved. Recruitment is starting at hospitals around the country immediately. The trial is to run until March 2021.As of yesterday (Wednesday, July 1), nearly 5,500 patients had been recruited in 21 countries among the 39 countries that have approvals to begin recruiting. Overall, over 100 countries in all six WHO regions have joined or expressed an interest in joining the trial. The designated Lead Investigator for the Solidarity Trial in Ireland is Prof Joe Eustace, Director of the Clinical Research Facility in Cork, and Chair of the Senior Management Team of Health Research Board (HRB)-Clinical research Coordination Ireland.
The list of intended participating hospitals and associated clinical research facilities (CRFs) are as follows: Beaumont Hospital (RCSI Clinical Research Centre [CRC]); Our Lady of Lourdes Drogheda Hospital (RCSI CRC); Mater Misericordiae University Hospital (UCD CRC), St Vincent's University Hospital (UCD CRC); Cork University Hospital (HRB CRF-Cork), Mercy University Hospital HRB (CRF-Cork); St James's Hospital (Wellcome Trust HRB CRF SJH); Tallaght University Hospital (Wellcome Trust HRB CRF SJH); University Hospital Galway (HRB CRF-Galway) and University Hospital Limerick (Health Research Institute-Clinical Research Support Unit, Limerick).Initially, four treatment options had been selected for the "Solidarity" clinical study: remdesivir; lopinavir/ritonavir; lopinavir/ritonavir with interferon beta-1a; and chloroquine or hydroxychloroquine. Two weeks ago, the WHO announced that the hydroxychloroquine arm of the Solidarity Trial to find an effective Covid-19 treatment was being stopped.
The trial's Executive Group and principal investigators made the decision based on evidence from the Solidarity trial, UK's Recovery trial and a Cochrane review of other evidence on hydroxychloroquine. According to the WHO, Remdesivir was previously tested as an Ebola treatment. It had generated promising results in animal studies for Middle East respiratory syndrome (MERS-CoV) and severe acute respiratory syndrome (SARS), which were also caused by coronaviruses, suggesting it might have some effect in patients with Covid-19.Lopinavir/ritonavir was a licensed treatment for human immunodeficiency virus (HIV). Evidence for Covid-19, MERS and SARS was yet to show it could improve clinical outcomes or prevent infection, added the WHO. Interferon beta-1a was used to treat multiple sclerosis. Then An Taoiseach Dr Leo Varadkar, told the Dáil in May that the Department of Health was supporting the WHO Solidarity Trial, which was comparing treatment options, including remdesivir, which was available to Irish patients under certain circumstances. "By recruiting patients in several countries and shortly here too, this trial aims to rapidly assess the impacts of these treatments in slowing the disease or in improving outcomes," Dr Varadkar told the House
Irish Medical times 2nd July https://www.imt.ie/uncategorised/ireland-joins-trial-comparing-unproven-covid-19-treatment-options-02-07-2020/
 Reproduction  Number Update
An Taoiseach gave an update on Primetime this week  on the reduction in Covid-19 numbers as we have proceeded with the easing of restrictions in phase1, 2  and soon  phase 3 . The Covid-19  positivity rate has reduced from 20% to 0.5%. If there is a second wave of Covid-19 cases with potential  local outbreaks and they may be a requirement for  localised lockdowns Click Here:
Warning to 15-34 age group
Dr Holohan, Chief Medial Officer  has issued a warning for the under 35's to abide to the Covid-19 guidelines to prevent the spread of the virus. . This update is due to the fact that  one-third of newly confirmed cases is among the under 35s."This is not a disease that solely affects older people"
 Minister for Health Simon Harris  Update 25th June
The Minister has reported a further drop in patients with #Covid19 in hospitals this morning -9 patients now in ICU and 31 patients in hospital with the virus (it was 37 yesterday)
Covid-19 Data Hib Update on Case Numbers
Breakdown of HealthCare workers with Covid-19
There is a 3 to 4% positive rate amongst health care workers.

https://covid19ireland-geohive.hub.arcgis.com/
HSE Advice to Healthcare Staff
All staff in hospitals must lead by example. When not treating patients please practice physical distancing at meetings, in the coffee shop and on ward rounds
Article Summer sun could kill coronavirus in just 30 minutes, new study shows
SARAH KNAPTON Irish Independent
During peak sunshine at the latitude of cities such as Cork – which occurs during the summer solstice around June 21 – just 30 minutes of sunlight is enough to reduce the infectivity of coronavirus by 90pc.
It means that even if someone was infected and coughed or sneezed onto an outdoor surface, the virus would be largely harmless within half an hour, with just a tiny viral load remaining.
The effect of sunlight on the virus is far greater at this time of the year. During the autumn equinox, on September 22, it would take an hour and 17 minutes to render the virus largely harmless in places such as Cork or London, and at the spring equinox, March 20, nearly three hours. At the December 21 winter solstice, the virus could survive for more than five hours in the weak sunlight, although indoors it is likely to last for days.
For cities at a more northerly latitude, such as Belfast, it would take slightly longer for disinfection – around 34 minutes in midsummer, an hour and 40 minutes in the autumn, nearly four hours in spring and more than five in winter. In the journal 'Photochemistry and Photobiology', Dr Jose-Luis Sagripanti and Dr David Lytle, the study report authors, wrote: "Forcing people to remain indoors may have increased contagion among same household dwellers and among patients and personnel inside the same hospital or geriatric facilities.
"In contrast, healthy people outdoors receiving sunlight could have been exposed to a lower viral dose with more chances for mounting an efficient immune response.
"The viral persistence estimated here for cities at northern latitudes where Covid-19 expanded rapidly during winter 2019-2020 and relatively higher viral inactivation in more southern latitudes receiving high solar radiation suggests an environmental role for sunlight in the pandemic."
Sunlight includes ultraviolet radiation that damages viruses' DNA. They have a fatty protective coating which degrades when it is warm. While the melting of the coating allows the virus to invade the warmth of the body, it dies if the casing disintegrates outside. A study by the US National Biodefence Analysis and Countermeasures Centre also found that coronavirus floating in the air decays by 90pc in just six minutes of summer sunshine and 19 minutes of winter sunlight. During the Spanish Flu pandemic of 1918, doctors found that patients who were nursed outdoors fared better than those indoors.
Irish Independent 23rd June
Article Scars of Covid-19 could last for life, say doctors amid fears of damage to brain, lungs
LAURA DONNELL
One in three patients who recovers from Covid-19 could be harmed for life, with long-term damage to their lungs, as well as chronic fatigue and psychological disturbances, research suggests.
Experts say there is growing evidence that the virus could cause persistent or even permanent trauma, including impairment to the brain and an increased risk of Alzheimer's disease.
In Britain, NHS guidance suggests that around 30pc of patients who recover from Covid-19 may be left with damaged and scarred lung tissue, if it follows patterns of similar diseases.
In an interview with 'The Daily Telegraph', the head of the new NHS centre for Covid-19 recovery said she was worried about how little was known about how long the consequences could last.
Dr Hilary Floyd, clinical director at the NHS Seacole Centre in Surrey, said she had been shocked by how young many of its patients were. Healthy people in their 40s and 50s when the virus struck were now facing long-term fatigue and disability.
She said: "These are people who were independent, they might be running their own business, going to the gym, swimming, active – now they are at the point where they can't get out of bed.
"We have a couple of patients in their 40s at the moment; we really didn't expect that. We were expecting them to be older, we have seen a lot in their 50s and 60s, who are really struggling, particularly because their expectation of getting back to normal is much greater.
"They may always have some level of debilitation," she warned.
The NHS guidance for GPs and community services warns that up to half of patients treated in intensive-care units in Britain for the virus may be left with "persistent physical, cognitive and psychological impairments" including chronic fatigue.
One in 10 of those discharged from hospitals in England after treatment for Covid-19 had been left with acute heart injury, it said. Last month, the NHS opened its first hospital dedicated to helping Covid-19 patients recover from the long-term effects. Its clinical director said loss of mobility and chronic fatigue were two of the most common problems seen in patients who had come through Covid-19, with physiotherapy one of the main treatments for recovery. In many cases, fatigue and breathlessness were so severe that patients were able to do only 10 minutes of activity at a time, Dr Floyd said.
Many patients were also struggling to cope with the psychological impact from the changes to their health, she said. "There is a lot of anxiety." For clinicians, the most frightening aspect is that so little is known about the long-term consequences of the virus.
"I think what is worrying is that there is so much we just don't know," Dr Floyd said. "We don't know how long-term 'long-term' is. We don't know if the generation who is in their 50s and 60s now will be much more frail or have an increased risk of dementia in 20 years' time."
Prof Peter Openshaw, who sits on the UK government's New and Emerging Respiratory Virus Threats Advisory Group (NerveTag), said: "We are quite alarmed about the number of people needing follow-up treatment after being hospitalised. Many are suffering quite prolonged effects, particularly those who had severe disease."
He said that intensive care patients would normally take about a year to get back to full health, while some never do. Prof Openshaw, an immunologist at Imperial College London, said there was particular concern about patients who suffer extensive blood clots, which can cut off blood supply to parts of the lungs, leading to a slow recovery.
Independent 23rd June 2020
HSE SCOPI Study : COVID-19 antibody research project
The main aim of this study  is to find out how widely the  coronavirus has spread in Ireland and what age groups are affected. Because coronavirus is a new virus there are many things, we don't know about it. We have been testing people who are ill, and we have been counting the number of people infected. But we don't know how many people may have either:
had the virus but were never tested
only had a mild illness or no symptoms and did not know they had the virus
The study will help us to better understand the spread of coronavirus and what we need to do to control it. It will help to decide on vaccination programmes, when a vaccine becomes available.
Further Information Click Here:
Covid -19 Data Hub
Irelands new Covid-19 dashboard which gives up to date analytics of the number of cases, number of Covid-19 deaths , number of hospital admissions and ICU admission and the median ages of Covid positive cases
NATIONAL INSTITUTE FOR HEALTH AND CARE EXCELLENCE NICE  evidence standards framework for COVID-19 diagnostic tests,
Evidence standards framework for SARS-CoV-2 and anti-SARS-CoV-2 antibody diagnostic tests The framework This framework is a 3-stage approach to collecting the best possible data and evidence in the short and long term, while tests are being quickly developed and validated during the COVID-19 pandemic.  Click Here:
NICE Remdesivir Update
Remdesivir is indicated for the treatment of adults and young people aged 12 years and over hospitalised with suspected or laboratory confirmed SARS-CoV-2 infection and severe disease. The evidence suggests some benefit with remdesivir compared with placebo for reducing supportive measures including mechanical ventilation and time to recovery in patients with mild or moderate, or severe COVID-19 disease who are on supplemental oxygen treatment.
Remdesivir is the first COVID-19 treatment to receive a positive scientific opinion by the Medicines and Healthcare products Regulatory Agency (MHRA) under the rapid early access to medicines scheme (EAMS).
Evidence standards framework for SARS-CoV-2 and anti-SARS-CoV-2 antibody diagnostic tests
Guidance for Vulnerable Groups
Guidance on cocooning to protect people over 70 years and those extremely medically vulnerable from COVID-19
This guidance is for people over 70 years of age, those who are at very high risk of severe illness from coronavirus (COVID-19) because of an underlying health condition, and for their family, friends and carers. Click Here:
HSE asks 5,000 people to take part in Covid-19 antibody study
Initial results expected in late August to measure prevalence of virus in population
The seroprevalence study, which will measure exposure to the virus using an antibody blood test, involves a representative sample of people from areas with higher and lower levels of infection.
So far, the only testing that has been done in Ireland has been to determine if a person is infected with the virus.
While the presence of antibodies afford some protection, it does not guarantee immunity.
Initial results are expected in late August and will enable the HSE's Health Protection Surveillance Centre (HPSC) estimate the prevalence of infection of Covid-19 in the population across different age groups.
The HSE noted the presence of antibodies indicated that a person was infected with the COVID-19 virus, irrespective of whether the individual had severe or mild disease, or even asymptomatic infection.
HSeLanD Webinar Series – 22nd / 24th / 26th June 2020
Covid-19 and the requirement to socially distance has created a need to reconsider how training is delivered.
This series of three webinars is designed to provide best practice guidance and advice to help you move to a blended learning model of delivery.
Who is it for?
This programme is for anyone who is facing the challenge of moving their learning out of the classroom, including:
Educators – who want to develop their understanding of the digital
delivery options available through HSeLanD and how to best use these
options to transform a classroom course into an effective blended
learning solution.
Facilitators – who wish to adapt their skillset to make the most of
the different digital options to facilitate, manage and report on
their training sessions.
Managers and commissioners – who wish to understand the
possibilities, additional considerations and how to avoid potential
pitfalls when moving to a more blended solution.
What is involved?
Three highly practical 1-hour webinars based on international based practice in digital learning design.
Webinar 1 – How to design blended learning programmes Monday 22 June – 12.00 to 13.00
How to audit your current training to prepare for the digital
learning transformation Exploring the digital learning options available for designing,
facilitating and managing learning online
Selecting the most appropriate digital learning options to achieve
your outcomes
Register for Webinar 1 now: Click Here:
Webinar 2 – How to develop content to inspire and motivate your learners Wednesday 24 June – 12.00 to 13.00
How to create an integrated learning pathway of created & curated
content using internal and external tools
Using creative online teaching techniques for action learning,
problem-based learning and work-based learning
Designing assessment and evaluation into your digital programme
Register for Webinar 2 now: Click Here:
Webinar 3 – How to deliver Virtual Classroom sessions (not specific to one
tool) Friday 26 June – 12.00 to 13.00

Planning your virtual classroom session or series – setup, equipment, motivating and preparing your learners for the teaching session
Designing interactive content using visual aids, polls & quizzes,
breakout sessions and managing Q&A
Using a variety of delivery techniques to engage the group
Register for Webinar 3 now: Click Here:
The above webinar recordings will be made available within the Share Centre on HSELAND in due course.
WHO Update
Government responses should focus on detecting and isolating infected people with symptoms, the World Health Organization said. Preliminary evidence from the earliest outbreaks indicated the virus could spread even if people didn't have symptoms. But the WHO says that while asymptomatic spread can occur, it is "very rare."
Vaccine Update
Johnson & Johnson said yesterday it would bring forward by two months human trials of its potential Covid-19 vaccine to the second half of July, as the drug maker rushes to develop a shot for the contagious respiratory disease. The company has already signed deals with the US government to create enough manufacturing capacity to produce more than one billion doses of its vaccine through 2021, even before it has evidence that it works. There are no approved treatments or vaccines for Covid-19.Johnson & Johnson's study will test the vaccine against a placebo and assess its safety and immune response in 1,045 healthy people aged 18-55 years, as well as those 65 years and older. The trial will take place in the US and Belgium. "Based on the strength of the preclinical data we have seen so far and interactions with the regulatory authorities, we have been able to further accelerate the clinical development," said Johnson & Johnson's chief scientific officer Paul Stiffest company is also in talks with the National Institutes of Allergy and Infectious Diseases to start larger, late-stage trials ahead of schedule, depending on results of the early studies and regulatory approval. Moderna Inc is at the forefront of Covid-19 vaccine development and has started testing its candidate in a mid-stage trial that will enrol 600 patients. The company expects to begin late-stage trials in July. Moderna's vaccine uses messenger RNA technology, an approach that has not yet been approved for any medicine, while Johnson & Johnson is utilising the same technology used to make its Ebola shot. There are about 10 coronavirus vaccines in human testing and experts have predicted that a safe and effective vaccine could take 12 to 18 months from the start of development. [Irish Independent 11th June]
NPHET Blood sampling to check % of population Covid-19 positive
Thousands of people in Sligo and Dublin will be chosen to be the first groups in the country to provide blood samples to find out if they were infected with Covid-19.The National Public Health Emergency Team picked the two counties for the first prevalence survey to try to measure what percentage of the population have had the infection. Dublin was chosen because it has suffered the highest number of infections in the country, reaching 12,163 – nearly one in two of all cases so far. Sligo has just recorded 128 cases, according to the latest figures from the Health Protection Surveillance Centre.  The aim was to get a region badly affected and another which had low levels of infection. The blood test will look for antibodies which are produced after a person who has had the infection has recovered. The study is planned for this month and it is expected to involve a communications campaign to get a high participation. The findings will indicate the level of immunity to the virus in the country, although it is still unclear how long this lasts due to it being a new virus. Similar studies have been carried out in other countries and were seen as important in exiting lockdown.    [Irish Independent  11th June]
Patient  Tracking System A young man from Ballyduff, Kilmeaden is one of the co-founders of a company that has developed a patient-tracking system to help hospitals and organisations in their bid to tackle Covid-19.
VitalTalk
VitalTalk has developed a communication  play guide that's available in a number of languages to help healthcare professionals communicate with patients . Please see some information here about VitalTalk. VitalTalk is based in Seattle . We've crowdsourced this playbook to provide some practical advice on how to talk about some difficult topics related to COVID-19. Building on our experience studying and teaching communication for two decades, we've drawn on our networks to crowdsource the challenges and match them with advice from some of the best clinicians we know. If you know our work, you'll recognize some familiar themes and also find new material Click Here:
Health workers should get the flu vaccination, warns Varadkar
TAOISEACH Leo Varadkar has warned the low take-up of the flu vaccine among health workers is "not on" and "has to change". It comes amid fears that there could be a second wave of coronavirus outbreaks during the winter flu season. Mr Varadkar said such a scenario would be "very difficult" and the Government is stepping up the annual flu vaccine programme as a result, including expanding free vaccination for children. He also said efforts are being made to get health workers to be vaccinated.
Health workers should get the flu vaccination, warns Varadkar
TAOISEACH Leo Varadkar has warned the low take-up of the flu vaccine among health workers is "not on" and "has to change". It comes amid fears that there could be a second wave of coronavirus outbreaks during the winter flu season. Mr Varadkar said such a scenario would be "very difficult" and the Government is stepping up the annual flu vaccine programme as a result, including expanding free vaccination for children. He also said efforts are being made to get health workers to be vaccinated.
Reproduction Number Update  
Minister  for Health Simon Harris has revealed there has been a "slight potential increase" in the Covid-19 reproductive rate.
The Minister spoke in the Dail today and said that data suggests that the reproductive number of the virus in Ireland is now between 0.4 and 0.7
HSE Comparison between Hay fever and Covid-19 Symptoms
The pollen count is higher now so more people will experience hay fever. If you normally get it, you will be familiar with the typical signs and symptoms of hay fever. They usually happen at the same time every year. While there are some similarities between the symptoms of coronavirus and hay fever, there are also ways to tell the difference.
Hay fever symptoms get worse when you are exposed to certain triggers. For example, pollen, weeds or grass. Hay fever does not cause a high temperature and most people with hay fever do not feel unwell. While coronavirus can cause symptoms in your upper airways such as loss of smell or a blocked nose, it is usually associated with a high temperature, aches and pains and a cough. Talk to your GP if you have severe or persistent symptoms. Click Here:
Covid-19 Symptoms
The National Public Health Emergency Team (NPHET) has agreed to add new symptoms to the case definition of COVID-19 in Ireland.
The new symptoms include the sudden loss of taste and smell, and GPs are set to be advised to refer to the amended case definition in identifying coronavirus cases from next week.
Social Distancing Guidelines
Leo Varadkar has said there's a "good chance" the two metre social distancing rule can be reduced to one, if the spread of coronavirus continues to drop
Resources for Parents  Gov.ie
During the COVID-19 public health emergency, parents are managing a range of new challenges.
There are many useful supports available from information and advice to one-one support however, parents are busy and there is an overwhelming amount of information available.
Parents Centre provides a starting point to access high-quality, trusted information and support. It is easy to navigate and helps parents access the information and support they need quickly.
Parents Centre is updated regularly as new resources become available Click Here:
COVID-19 Testing and Tracing Roadmap to enhance capacity and turnaround
A rapid review was commissioned by HSE leadership on 15th April 2020 to analyse the end-to-end testing infrastructure for COVID-19 and to outline initiatives to improve its performance. It was concluded on 24th April 2020 for consideration by HSE Leadership, the HSE Board, the Department of Health, Cabinet and NPHET.  The paper presents a view of the target performance levels needed at each stage of the process to effectively deliver a testing pathway that will consistently and sustainably deliver increased capacity levels and reduced turnaround times while mitigating the associated risks.  The stages of the review undertaken include GP referral, community swabbing, laboratory testing and contact tracing process. The paper also outlines a summary of the primary risks and constraints. The document also outlines progress to date on all actions outlined in the original paper.  The HSE recognises that the availability of widespread, responsive testing with a short turnaround time is critical to the public health response to the COVID-19 pandemic
HSE Testing and Contact Tracing Dashboard 18th May
This shows an update of the numbers of aces and where they have occurred.
ECDC Covid-19 surveillance Report
The link below provides a summary from the ECDC based on data available  on 21 st  May 2020, 29 out of 31 countries (EU/EEA countries and the UK) showed consistently decreasing trends in COVID-19 14-day case notification rates compared to peaks that were observed 14–50 days earlier.
Dementia Understand Together
This document was developed by Family Carers Ireland in response to the Covid-19 outbreak at the request of our members but it can be used for any emergency. If you would like to share your experience of completing this document or using this plan, we would love to hear from you. If there is additional information you would like to see included in future versions please contact us by email at kmcloughlin@familycarers.ie
Society of Radiographers SoR
What action is needed to restart breast screening equipment unused during the pandemic?
Breast screening services are being reminded to consult advice about the care and maintenance of mammography x-ray equipment and trailers which has not been used during the pandemic
Society of Radiographers SoR
Screening restart: Guidance for safe service provision during Covid-19 pandemic and post pandemic phase
The Society and College of Radiographers (SCoR), in collaboration with the Royal College of Radiologists (RCR), has produced this joint guidance to support the restarting of screening services involving imaging during the COVID-19 pandemic. This document offers guidance to members and providers. It supports 'paused' or 'stopped' services to recommence safely, protecting staff and clients.
NICE COVID-19 rapid guideline: children and young people who are immunocompromised
The purpose of this guideline is to maximise the safety of children and young people who are immunocompromised during the COVID-19 pandemic. It also aims to protect staff from infection and enable services to make the best use of NHS resources.
Covid-19 Case Update Ireland
Coronavirus Cases=20,612
Death=,232
Recovered=13,386
https://www.worldometers.info/coronavirus/country/ireland/
RTE News 30.04.2020 :The breakdown of Covid-19 Cases
Health care Staff = 5,684
Hospitalised = 2709
Clusters = 630
ICU = 360
https://www.rte.ie/news/coronavirus/summary/
Remdesivir: The Covid-19 drug helping patients recover faster
An interesting update on Remdesivir trails .
The Nursing Journal  – protect your family from Covid-19
This is a short 3-minute video with helpful tips to protect your family from Covid-19 .It's very direct but has very valid points
Medical workers are worried sick, that they will get infected at work and bring the virus back home and infect their families. So, because of this, many of the medical workers isolation. But this is not really an option for everyone. There are a lot of health workers who are still living with their family, with their kids and with their room mates. So, we came up with the most basic ways for you to minimise the risk of infecting your home and your family Click Here:
The Nursing Journal  Tips for Nurses Living Away from Their Families During COVID-19
This is another short video with helpful tips for those healthcare professionals who may have to move put from their family during Covid-19 to protect their family . Living in solitary is hard, especially when you don't know when you can hug your loved ones again. If you are feeling depressed, anxious or lonely, you should know that you are not alone. Taking care of your mental health is crucial when living in isolation, so The Nursing Journal has come up with 5 ways that will help you survive self-isolation. Click Here:
GE Webinar on demand
Diagnosis and treatment of COVID-19: webinar replay available Click Here:
Memberwise 12 May @ 11:00 am – 12:00 pm
Transitioning to Online AGMs & Conferences: Your Recipe for Success
For many associations, the AGM is a constitutional requirement. But with the COVID-19 pandemic causing such widespread upheaval to all aspects of daily life, this is forcing governance professionals and membership boards to consider alternative options for their AGM. This session will aim to equip you with the key points of how a hybrid or virtual AGM could work for you, and how to practically run an online meeting to ensure member democracy and engagement is upheld. Importantly, it will also show you what that experience looks like from a member perspective. You'll learn:
How technology is supporting hybrid and virtual AGMs
How to run and chair a virtual meeting
How to improve the member experience, ensuring engagement
Maps of Covid-19 locations
There are two  maps released by the HSE  included here one showing the locations of cases in Dublin and the second map showing cases nationally the
data was released by the HSE late on Wednesday evening, and it accounts for all confirmed cases up to April 13 Click Here:
UCD College of Social Sciences and Law
Ireland's COVID19 Crisis Response: Perspectives from Social Science
Join UCD Geary Institute this Friday online as they anticipate likely challenges ahead and how research can contribute to finding solutions .The first case of Covid-19 was observed in Ireland on February 29th. In the past month, we have had  unprecedented change in every aspect of Irish society. The response to the pandemic progressed from warnings to school and pub closures, to a comprehensive shut down of non-essential workplaces, and strong guidelines on physical distancing, hygiene, and travel.
It is urgent to understand how people are responding to these changes. Adherence to physical distancing and protective health behaviours may be vital in delaying the transmission of the virus and allowing the health system to adapt. Understanding how to promote such adherence is a key topic of research for our community. Understanding the short-run impacts on mental and physical health is a key priority, as is understanding how the impacts of the restrictions are spread across groups of people and different types of businesses.
In the longer term, the Covid-19 pandemic will leave a wide range of public policy challenges in its wake. It would be important to anticipate now what those challenges are likely to be and to explore how research can contribute to finding solutions. With these challenges in mind, we are launching a series of Covid19 crisis policy response events. The first will take place Friday April 17th and the second will take place Friday April 24th.
The April 17th conference will take place  on-line via Zoom from 10:00 -13:00.  There will be 6 sessions with 3 parallel sessions in two time slots (10:00 am to 11.20am and 11.40am to 1:00pm).  These sessions will be available on demand post events. Click Here:
Explained: How Scientists Are Winning the Fight Against COVID-19
Across the world, medical scientists are working hour-by-hour to try to us get beyond our new day-to-day existence. The pandemic has sparked a global scientific response, which is moving at incredible pace Click Here:
Optimisation of Vitamin D Status in the fight against Covid-19 .
This article was sent to me by a dietician and highlights that many Irish people due to lack of sunlight are Vitamin D deficient . People with low Vitamin D levels are more susceptible to acute upper respiratory tract infection. Vitamin D supplementation may decrease the likelihood of acquiring acute respirator y tract infections and decreases the severity and duration in people who do acquire an infection. Read More:
The National HSCP Office is pleased to advise that a HSCP repository is now available in the HSCP Hub on HSELanD. This repository has been developed to support the Health and Social Care Professions to deliver services in the context of the COVID-19 pandemic. It is intended that this central repository will enable a sharing of COVID and non-COVID-related resources to reduce duplication of effort for HSCP frontline staff and managers at this time.
This development will be an iterative process with new content being added as it is received. The format may change over time in line with content requirements and user feedback.
Location of HSCP Repository on HSELanD
Once logged in to www.hseland.ie, users can access the repository in three clicks:
Go to Hubs
Go to Health and Social Care Professions (Hub)
Click Resources to Support HSCP Delivering services in Context of COVID-19
*If you do not have an account, you can create an account as a staff member or 'volunteer'.
We invite HSCP frontline staff, professional bodies and other interested parties to continue to send relevant resources to the National HSCP Office by emailing hscp.nationaloffice@hse.ie.
The Critical Care Programme (CCP)
Critical Care Programme is a collaborative multi-professional patient-centred initiative administered by National Clinical Programmes, Clinical Strategy and Programmes Directorate, HSE, in liaison with the Joint Faculty of Intensive Care Medicine of Ireland (JFICMI) and Intensive Care Society of Ireland (ICSI).
The aim of the Critical Care Programme is to improve the survival of critically ill patients.
To achieve this, the objective of the Critical Care Programme is critical care performance improvement by strengthening critical care capability. Capability domains include- information, process mapping, capacity planning, communication and engagement, and governance and leadership.
The principal priority of the Critical Care Programme is capacity maintenance and expansion in line with its Critical Care Model. Read More:
Covid-19 HSE Clinical Guidance and Evidence
HSE Interim Clinical Guidance to provide nationally consistent advice to the clinical community in response to the Covid-19 pandemic. This is based on best available knowledge at the time of completion, written by clinical subject matter experts (SMEs) working with the HSE. These SMEs have both expertise and experience of treating patients for the specific health conditions covered by the guidance.
Research evidence summaries prepared by the HSE National Library Evidence team and other stakeholders (these are statements of emerging evidence and do not replace clinical judgement or guidance)
An online facility to request additional published Covid19 evidence in relation to specific clinical questions.
The content of the site is not meant to replace clinical judgment or specialist consultation, but rather strengthen clinical management of patients and provide up-to-date and relevant guidance.  The guidance is iterative in nature and will be updated as the situation changes. The process for review and updating is being developed
This site provides a national easily accessible repository of clinical guidance and latest research evidence to equip the clinical community in Ireland to  respond to Covid-19. Click Here:
Coronavirus: All your questions answered Podcast with Professor Martin Cormican
It can be hard to sort fact from fiction when it comes to Covid-19. Infectious disease expert Professor Martin Cormican appeared on RTÉ's Liveline with Joe Duffy to answer questions from worried callers.
Professor Cormican – the HSE's Clinical Lead for Infection Control – gave detailed advice to listeners on everything from sleeping arrangements to the death of a loved one. Click Here:
New Lysis Buffer  RT-PCR diagnostic testing of C-19
The COVID-19 pandemic has resulted in increased need for diagnostic testing using reverse transcriptase real-time PCR (RT-PCR). An exponential increase in demand has resulted in a shortage of numerous reagents in particular those associated with the lysis buffer required to extract the viral RNA. Herein, we describe a rapid collective effort by hospital laboratory scientists, academic researchers and the biopharma industry to generate a validated lysis buffer This will be of great help to laboratories suffering shortages of renowned "LYSIS" reagent. Read More:
Health Information Quality Authority HIQA
Evidence summary for the  average length of stay in the intensive care unit for COVID-1
https://www.hiqa.ie/sites/default/files/2020-04/Evidence-summary_Covid-19_average-LOS-in-ICU.pdf
Communication supports
This communication tool kit is aimed at doctors caring for Covid-19 patients, but it provides helpful advice in an easily readable format for all health care  professional Click Here:
Communication Guide for difficult conversations
This guide is intended to help and support clinicians in their difficult conversations with patients and their loved ones. Click Here
The HSE has 2 new COVID-19 resources now available to all staff:
  1) Rapid Review & Evidence Summary Service
Who is this for?  Healthcare staff at the front line or from national clinical programmes who have requests for rapid evidence reviews in relation to COVID-19
What type of Rapid Review can I request? For a list of requests completed and in process, please visit Click Here:
When will my request be completed?  All requests are reviewed (Monday – Friday) and a response returned as soon as possible.
Where can I access this service?  Go to https://hselibrary.ie/  and click on 'Submit a Rapid Review Request'
Who is providing this service?  This is provided by a team of HSE librarians together with editorial input from clinicians/health care professionals.
2) Repository of HSE Interim Clinical Guidance & Evidence
 The HSE National Library Service, Research & Development and Clinical Design & Innovation have worked together to provide this extensive repository.  It provides consistent advice to the clinical community in response to the Covid-19 pandemic. It is informed by best available knowledge at the time of completion, written by clinical subject matter experts (SMEs) working with the HSE. These SMEs have both expertise and experience of treating patients for the specific health conditions covered by the guidance. Access Here:
National Health Library & Knowledge Service
Contact us on hselibrary@hse.ie open with the tress of Covid-19outbreakarie-Pierre
Health Protection Surveillance Centre HPSC
This website provides latest guidance for clinical and non-clinical settings on Covid-19 . Video resources include how-to put-on PPE , decontamination of clinical rates, dealing with suspected Covid-19 cases.     https://www.hpsc.ie/
 HSE Advice for Health Care workers
DOH Department of Health Information  Click Here:
on this page you can view the latest daily information on how Ireland is responding to cases of COVID-19. Information included the following useful details
Latest Updates,
Public Health Measures
Health Advice
Irelands Response to Covid-19
Social Welfare Advice for Employers/employees/self-employed
Updates and Information from across Government
Government of Ireland Irelands National Action Plan in Response to Covid-19
Health and Safety Authority HSA
This document below specifies requirements to implement, maintain and improve an organisation's ability to protect against, prepare for, respond to and recover from COVID-19 related disruptions when they arise. Click Here:
Global /National Tracking of Covid-19
 This website track's  global cases and trends and is updated daily. Click Here:
The number of Irish Covid-19 cases daily is available on Health Protection Surveillance Centre (HPSC) Click Here:
 What happens to my coronavirus sample in the testing lab?
Dr Brigid Lucey is a Senior Lecturer and Medical Scientist at Cork Institute of Technology. She is president of the Academy of Clinical Science and Laboratory Medicine. Dr Lucey wrote an update on the process and the people involved in Covid-19 tests in medical laboratories around Ireland  Read more:
Ireland's health service uses "patientMpower" remote monitoring solution for COVID-19 patients
Dublin-based digital health firm "patientMpower "has developed a remote monitoring solution for COVID-19 on behalf of the Irish Health Service Executive (HSE).This enables monitoring of otherwise healthy patients with mild to moderate symptoms who are in self-isolation.
The national programme is already operating across several hospitals in Ireland, including the Mater, St James's and Beaumont Hospitals in Dublin, with others currently at the on-boarding stage.  Read More: